Cameron's Brewing Co., 1165 Invicta Drive, Oakville, Ontario
View a clip from Cameron's Brewery!
For the longest time I thought of Cameron's Brewing as a "Toronto brewery". There aren't many in the city of Toronto itself - Steam Whistle, Amsterdam and most recently Mill Street. But before Steam Whistle and Mill Street, in 1997 opened Cameron's - a new Toronto brewery at the time, located in west-end Etobicoke.
Cameron's debuted with one beer - a Cream Ale. This in itself was not terribly newsworthy - cream ales are popular amongst microbreweries in Ontario. However, they garnered some attention with their innovative packaging - a nine-pack, nicknamed the Cameron's Cube. Long before the big breweries got bigger with 28-packs, Cameron's preceded them this unique format. And to top it off, all nine-packs were personally signed by Cameron himself - brewer and owner Cameron Howe. Cameron's might not have got much attention within the beer-geek circuit with their Cream Ale, but their "Cube" definitely got some attention and turned some heads at beer shelves.
Cameron's developed a following in the Toronto area, with their beers becoming available in Beer Stores and LCBOs, and in numerous pubs in the city. Personally I noticed them through their unique Cameron's-branded retro fridges.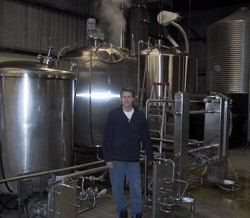 Brewmaster and president Cameron Howe.

About a year after the Cream Ale launched, Cameron's debuted two more beers: Auburn Ale and Lager. Both beers are very fine interpretations of their styles - I would classify them as beers that are meant to appeal to a broad market, but retain the quality that attracts more discerning beer drinkers. These beers will not scare off those who are unfamiliar with microbeers, but at the same time are of high enough quality to satisfy beer enthusiasts. Overall three fine beers from Cameron's.

Cameron's also did something that is not terribly common amongst small microbreweries in Ontario: advertising. The ad airwaves tend to be dominated by larger players such as Sleeman, Brick, Molson and Labatt. But Cameron's did it anyway, and developed a couple of clever radio spots that aired in the Toronto area. Click below to listen to one of them, entitled "Bavarian Hops Broker" - a funny spot about a German hops discounter who can't sell his product to Cameron.

Listen to Cameron's radio spot:

But then quietly, Cameron's was no longer a Toronto brewery. Luckily for beer connoisseurs, however, Cameron's did not close. He simply packed up from Toronto and moved to the more rent-friendly and spacious confines of Oakville. Cameron's moved into a huge space in the summer of 2002, and set up a pristine and incredibly well-organized operation. Watch the video clip above for a short tour of the brewery. Cameron's is located in the same area as fellow breweries Black Oak and Trafalgar - this region of Oakville truly is the "brewery district". I cannot think of another area in Ontario with breweries so close to one another.

All signs point to Cameron's being very successful. All three beers are selling well, and they have a good number of draught and bottled accounts in Toronto. Cameron's also has an enthusiastic staff who regularly work the festival circuit and get Cameron's beers into various events across the province. Unfortunately, this success means that it is unlikely to see any more brands from Cameron's in the near future - they just can't make any new ones to keep up with demand for their current beers. However, in this ever-challenging economic climate for breweries in Ontario, it is always great to see a success. And I'll always think of them as a Toronto brewery.