The Life, Death and Re-birth of the Upper Canada Brewing Company
551 Clair Road West, Guelph, Ontario, N1L 1E9
Tel. (519) 822-1834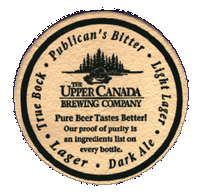 This profile is to commemorate and document the history of the Upper Canada Brewing Co., Toronto's first microbrewery and one of the first breweries to introduce interesting styles of beer to Torontonians that were at the time not brewed by Molson or Labatt. Upper Canada beers are currently brewed by Sleeman Breweries, but readers of the Bar Towel should know the history and impact of the formerly independent Upper Canada Brewing Company, its principles and what it stood for, before it assumed its present form as a segment of Sleeman's portfolio.
Upper Canada Brewing was founded in 1985 by Frank Heaps, and during its existence in Toronto produced some of the finest beers in the city. However, in 1998, after having gone public in 1996, Upper Canada was purchased by Sleeman Breweries, ending a local brewing legacy in Toronto. Upper Canada, of course, did not die, as Sleeman began brewing under the Upper Canada brand at their brewery in Guelph, Ontario. However, the beers and their character were not the same, and probably never will be. Upper Canada will be remembered as a brewery that made fine beers, gave great tours, pulled plenty of free samples, provided kegs to the public, and did its best to convince Torontonians to taste styles outside of the uninteresting mass-brewed beers they grew up with.

The Upper Canada Brewing Company (UCBC) began brewing in Toronto in 1985. As Toronto's first micro, the UCBC set out to provide Ontario with ales and lagers brewed according to the Bavarian Purity Act of 1516. This code guarantees that ingredients of the beer conform to strict standards. Although it prevented the UCBC from experimenting with different ingredients in their beers (for example, fruit and spices), it kept their beers free of adjuncts, a popular replacement ingredient in mass-market brews.
The UCBC began by priding itself on individuality and character. A key policy adopted by the brewery was to bottle their beers in non-twist off bottles, incurring a greater cost but offering consumers the best possible bottled freshness, something a twist off cannot match. It was the pride demonstrated by this original policy that showed UCBC's dedication to good beer, a pride that would seem to erode over the years.

The original, now discontinued Rebellion lager.

On to their beers. In August of 1985 UCBC unveiled their flagship brews, Lager and Dark Ale. Both were very tasty, and for years were benchmarks of local microbrew quality. In 1986, they debuted Light Lager and the seasonal delight True Bock. 1987 saw the release of Rebellion, a strong lager commemorating the 1837 rebellion of Upper Canada. In 1989 their Wheat debuted, with Publican's Special Bitter following in 1990. The new beers continued, with Colonial Stout in '91, Natural Point Nine Lager in '92, Pale Ale in '93, Brewster's Scottish Ale in '94, and in 1995, Drayman's Tawny Porter and seasonals Oktoberfest and Winter Brew (a barley wine). These were Upper Canada's glory years, as they gave the city a wonderful slate of brews, covering many of the world's important beer styles.

However, it was with the release of the "new" Rebellion that UCBC began to shift away from its original focus. In April 1996 UCBC unveiled Rebellion Ale to complement the original Rebellion (which was a lager, but it was renamed Rebellion Lager). New packaging was introduced, but the original Rebellion was gone. The original Rebellion was a very unique strong lager that was retooled poorly into the new Rebellion Lager.

Shortly following, UCBC unveiled two new and rather weak offerings, Woody's Wild Ale (an amber ale, released April 1996) and Summer Brew (a pilsner, released May 1996).

As well, capitalizing on an industry trend at the time, UCBC went public. This decision would have a significant impact on the future of the company, forever changing the beers and the character of the UCBC. The company's shares began trading on the Toronto Stock Exchange, and in a fundamental shift in policy, the UCBC began bottling using the industry standard (twist-off) bottle. It was a move that seemed to satisfy shareholders - it cut costs. It was, however, very unfortunate - once the brewery was very proud of its custom bottles, bucking the system in favour of their principles. But on March 10, 1997, the first industry standard bottle was filled, and original non-twist bottles were discarded forever.

The decision to go public would forever change the UCBC. Almost immediately after the IPO, the company began performing below expectations. In fiscal 1996, the company lost $0.54 per share. This forced UCBC to refocus its core line of beers, unfortunately leading to the cancellation of some of their most unique and flavourful brews: Scottish Ale, Tawny Porter, Summer Brew, Pale Ale and two of my personal favourites, Publican's Bitter and Colonial Stout. The outlook for UCBC was bleak. As profit became the primary target for the company, beer lovers began to doubt if any brewing innovation could be expected from UCBC.

However, UCBC continued to further educate the public on the merits of good beer, if not through new beers. The UCBC began a great newsletter, the Upper Canada Loyalist, a glossy four-page paper featuring articles, recipes and interesting notes for UCBC fans. The brewery supported the local arts scene when possible, housing a gallery for local artists and frequently hosting fundraisers in the brewery. The brewery itself was a beautiful old warehouse, nestled at the end of Atlantic Ave., near the revitalized King St. West area in downtown Toronto. They offered great tours, leading attendees through the brewery, and providing free samples of their beers and various barley snacks.

Fans of the UCBC were crushed on January 12, 1998, when Sleeman Breweries announced a friendly offer to purchase all outstanding shares of UCBC. This announcement shocked and saddened beer lovers in Toronto. The reality of the purchase was that the original Toronto brewery would be closed, which was a building that possessed a strong relationship with the city. Even the beer industry is affected by corporate consolidation, and it hit home with the purchase of the UCBC by Sleeman Breweries.

In early 1998, the offer was completed and Upper Canada officially became part of Sleeman's portfolio. Changes were inevitable, and they were initiated from the start. The Toronto brewery was closed, and all brewing operations were moved to Sleeman's main plant in Guelph, Ontario. The UCBC beer line was further cut, eliminating all brews except Lager, Dark Ale, Wheat, Point Nine, Light Lager and Rebellion Lager. However, in June of '98 the new Upper Canada unveiled its first and only new product since the takeover - Maple Brown Ale, an uninteresting dark ale flavoured with maple syrup.

Sleeman continues to support the brands, as the beers still have a strong presence in the Toronto pub scene, and the Loyalist newsletter continues. However, another twist of the blade in the beer lovers' heart came with the news in late 1999 that Upper Canada would begin distributing their flagship Lager in cans. Touted as "Ontario's First Craft Beer In A Can", this decision further distances the current Upper Canada from the brewery of the past.

Without question, the Upper Canada Brewing Company is not the same now as it was is the 80s and early 90s. It is sad to reminisce, but Upper Canada will always be remembered by this writer, as a brewery, through its interesting brews and wonderful tours, that introduced me to the beer styles I had never previously tried in my youth.

However, a link to the Upper Canada of the past is back on the Toronto beer scene. Cameron Heaps, son of UCBC founder Frank Heaps, has recently opened a new microbrewery in Toronto. Named Steam Whistle Brewing, this new brewery was constructed in the historic John St. Roundhouse, south of the SkyDome in downtown Toronto. Their first brew, Steam Whistle Pilsner, made its debut in late March of 2000. Hopefully the principles of good beer that Frank Heaps brought to the Toronto beer scene have been passed on to his son Cameron, and will be reincarnated at Steam Whistle.

Upper Canada's website: www.uppercanada.com

Steam Whistle's website: www.steamwhistle.ca


Warning: include() [function.include]: http:// wrapper is disabled in the server configuration by allow_url_include=0 in /u/c/cecktor/www.bartowel.com/breweries/uppercanada.phtml on line 129

Warning: include(http://www.bartowel.com/footer.phtml) [function.include]: failed to open stream: no suitable wrapper could be found in /u/c/cecktor/www.bartowel.com/breweries/uppercanada.phtml on line 129

Warning: include() [function.include]: Failed opening 'http://www.bartowel.com/footer.phtml' for inclusion (include_path='.:') in /u/c/cecktor/www.bartowel.com/breweries/uppercanada.phtml on line 129