Eggenberg Coming to Ontario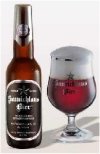 Hot on the heels of the announcement that they were bringing Thomas Hardy's Ale and other O'Hanlon's beers to Ontario, word has come that import agents Roland + Russell have added Austrian brewery Schloss Eggenberg to their portfolio.
As with O'Hanlon's, Eggenberg is known as a brewery that revived a classic strong beer: Samichlaus, a 14% abv Doppelbock that was once the strongest beer in the world. They also produce the slightly less potent Urbock 23°; MacQueens Nessie, which is brewed with Scottish Highland whisky malt; two unique liquors made by distilling beer; and several other brands.
UPDATE: Details on private ordering prices and availability of these beers have now been announced. All prices are for cases of 24 x 330 ml bottles:
Samichlaus - $84.00
Urbock 23 - $62.40
Doppel Bock Dunkel - $62.40
Mac Queens Nessie - $55.20
Eggenberger Hopfenkonig - $49.20
Spirit of Hemp - $55.92
Distilled spirits Samichlausbrand & Zigarrenbrand are also available. Interested customers are asked to contact Roland + Russell for more information - phone 416-801-9885 or 905-399-5885, or email sales@rolandandrussell.com.
Discuss this topic in the Bar Towel Forum
Posted by Bar Towel News Editor at January 30, 2007 02:30 PM