Southern Tier on Bar Towel Radio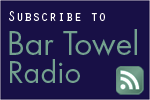 We're proud to announce a new episode of Bar Towel Radio, an interview with Phin DeMink and Paul Cain of Southern Tier Brewing from Lakewood, New York. Phin and Paul were in Toronto recently to celebrate the pending release of their Southern Tier IPA at the LCBO.
Get it from Bar Towel Radio's home page or subscribe to the feed here. We've got some more episodes coming down the pipe so keep your eyes open for them.
Posted by Cass at May 10, 2008 01:10 PM