125 John St., 416-728-4503

Directions: Take the Yonge-University-Spadina subway to Osgoode station. Exit and walk west on the south side of Queen St. Turn left at John St. Smokeless Joe's is on the east side of John St.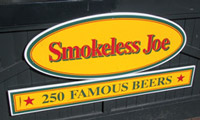 Smokeless Joe on the patio.

Smokeless Joe, as the name implies, is a non-smoking pub. Although in a year or so this will become the norm in Toronto (new non-smoking by-laws are being phased into effect), Smokeless Joe was one of the first to promote non-smoking under their own free will. However, it is not the non-smoking aspect that is most memorable about this place. There is, of course, the beer, which helps make Smokeless Joe one of the most unique experiences in Toronto.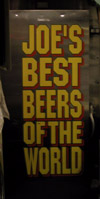 You never know what's new in the Joe's beer fridge.

Smokeless Joe has been around for some time now, founded by the original Joe, affectionately known as the "Old Joe". Why this is the case will be explained a little later. The original Joe created a mood of friendliness that was evident from first stepping foot in the pub. Joe commonly approached entrants and introduce himself, asking for names. If Joe happened to not be around, the staff would do the same. One would not be missed upon entry, as Joe's was and remains a very small pub, comprised of two long bars running the length of a narrow basement space at 125 John St. The introductions and the small physical space of the pub creates an atmosphere unlike anything else in Toronto's club district.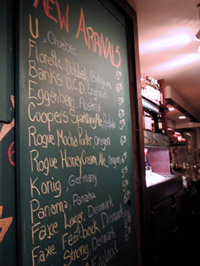 The first place beer lovers look at Joe's: the new arrivals chalkboard.

However, in August of 2001, Joe sold Smokeless Joe to, ironically enough, another Joe. This was Joe Sacco, former manager of the Academy of Spherical Arts. This Joe is truly a beer fanatic, as demonstrated by the beer selection at the Academy when he was in charge. Before he departed to purchase Smokeless Joe he arranged for an exclusive deal with Rogue Ales of Oregon, stocking virtually every brand in bottles, beers that were unavailable at the LCBO or other pubs. However, the opportunity to take over Smokeless Joe was too good to pass up. He is now the "New Joe", and the original became "Old Joe", who occasionally stops by now and then.

Luckily when the "New Joe" took over, very little has changed that made the original Smokeless Joe great. In fact, it has probably become better. Smokeless Joe has and always will be about the finer things in life. Smokeless Joe is an establishment where great beer can be found, but also other savoury delicacies such as oysters, scotches, hot sauces and very fine bread. But beer is without question the most important thing as far as The Bar Towel is concerned.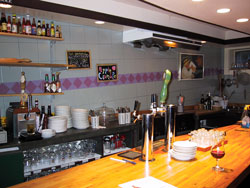 Part of the main bar at Smokeless Joe.

The passion that Joe Sacco has for beer is evident in the selection at Smokeless Joe. Smokeless Joe has without question the finest and most diverse bottled beer selection in Toronto. From exclusive beers unavailable at any other bars in Ontario to the latest releases from the LCBO, Smokeless Joe is the place to go for a bottled beer of something unique. To list beers that Joe stocks here would be a disservice; it rotates and changes so frequently one must really visit to find out. One tip for a visitor: before looking through the menu first scope out the "New Arrivals" chalkboard located behind the bar. It is almost assured that you will probably find something you haven't tried listed there.

Suffice it to say, Joe's selection is great. Whenever the LCBO brings in a beer for release in their stores, Joe often manages to procure a number of other brands from the same brewery, brands that never see the LCBO shelves or any other bars in Toronto. Joe wants to be a true destination for beer lovers - and this is achieved in a remarkable fashion.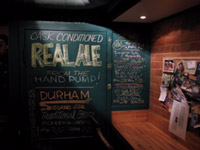 Smokeless Joe's Draught Chalkboard.

Joe does have a small draught selection, around 5 or 6 taps, including a handpump cask. Again, the selection rotates very frequently, but Joe is a strong supporter of local microbreweries and one can usually find something interesting here as well. Be sure to check the chalkboard on the back wall for the draught listing, and you could always get small samples of the draught beers for $1 to try them out.

A weakness of Smokeless Joe is also an asset - it is incredibly small. To visit and be shut out of seating would obviously be very disappointing - yet expansion would eliminate the intimacy that makes Joe's so comfortable if you are lucky enough to be relaxing at the bar. Smokeless Joe is an excellent pub, not only a must for a crawl through Toronto's entertainment district, but one of the finest pubs in the city that is worth visiting any time of year.

Highly Recommended.


Warning: include() [function.include]: http:// wrapper is disabled in the server configuration by allow_url_include=0 in /u/c/cecktor/www.bartowel.com/regions/pubs/smokeless.phtml on line 157

Warning: include(http://www.bartowel.com/footer.phtml) [function.include]: failed to open stream: no suitable wrapper could be found in /u/c/cecktor/www.bartowel.com/regions/pubs/smokeless.phtml on line 157

Warning: include() [function.include]: Failed opening 'http://www.bartowel.com/footer.phtml' for inclusion (include_path='.:') in /u/c/cecktor/www.bartowel.com/regions/pubs/smokeless.phtml on line 157