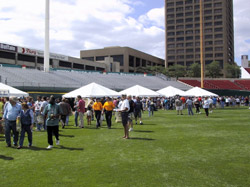 The right tent at the Buffalo BrewFest.

The Buffalo BrewFest staged its second anniversary event on Saturday, September 1st, 2001 at Dunn Tire Park in downtown Buffalo, home of the minor-league baseball Bisons. In the summer of 2000, the first BrewFest was an outstanding event, with a relaxing atmosphere and great selection of beers to sample. In 2001, the organizers did not alter their winning formula, and another wonderful fest was put on. The Buffalo BrewFest is truly a beer lover's fest, one that all Toronto beer connoisseurs should make the effort to attend.

One of the key differences between Toronto's and Buffalo's beer festival is how the drinks are allotted to patrons. Whereas the Toronto festival sells tickets that are redeemed for individual samples, the Buffalo festival includes unlimited samples with the admission price of $15USD. As this is a beer lover's fest, even though the samples are "unlimited" for drinkers, there was no rowdiness or problems amongst the attendees.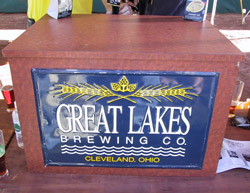 Great Lakes' great beers at the fest.

There were many U.S. micros in attendance, including Great Lakes of Cleveland, which was probably my most frequented booth. They were serving four of their regular brews: Eliot Ness, an excellent Vienna lager, Edmund Fitzgerald Porter, Dortmunder Gold and Moondog Ale. They were also serving a special treat: an eight year-old barley wine, which they brewed but were unable to serve in their home state due to legal restrictions. Luckily all who attended the Buffalo BrewFest benefited from Ohio's strange laws, as the barley wine was a delicious brew, reminiscent of McAuslan's Vintage Ale. It looks like Great Lakes is finally going to be distributed in Buffalo, so more Great Lakes should be available at Premier and at pubs in the Buffalo area.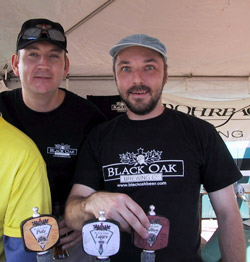 George from Black Oak serving their brews.

Another notable attendee was Downingtown, Pennsylvania's wonderful brewery Victory. They were serving only three of their large portfolio of beers: the excellent HopDevil, Prima Pils and their fall seasonal Festbier. Other tasty American breweries in attendance were Anchor, Sierra Nevada, Rogue and Three Floyd's. There were also a handful of international brewers, including Corsendonk, Chimay, Czechvar, Harviestoun, Young's and others. Canada was also represented, with Unibroue making their second consecutive appearance at the fest. And our friends at Black Oak made the trek to Buffalo, being the only Ontario brewery in attendance, serving their three flagship brews.

There was also a strong representation of New York state breweries, including Barker, Ommegang, Brooklyn, Cooperstown, Custom Brewcrafters, Ellicottville, Flying Bison, High Falls, Ithaca, Mendocino, Middle Ages, Pearl Street, Pizza Plant, Post Road, Rohrbach, Sackets Harbour and Wagner Valley. Many fine New York breweries, many hoppy, hoppy beers.

The festival ran from 1-5pm, and the weather was almost perfect. There were a few clouds initially, but they cleared up and the warm sunshine came out. The festival was staged in the outfield of the stadium, with the patrons able to grab a sample and sit down and enjoy on the soft baseball-groomed grass.

To aid the drinkers, the festival offered free bottled water. To me, this is symbolic of how the Buffalo festival is truly for the beer lover. In Toronto, there would rarely, if ever be a public event where bottled water was less than $2, let alone free. This is another in a long list of differences that separates Buffalo's festival from Toronto's.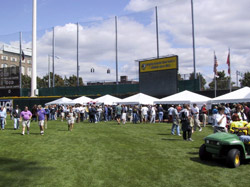 The left tent at the Buffalo BrewFest.

The Buffalo BrewFest is a completely enjoyable experience for a beer connoisseur. It is an event that should be attended by anyone who likes good beer. Virtually every aspect of the festival is tailored to both the patron and brewer - a rare feat. The festival is a great time for both the drinkers, who are presented with a wide range of interesting and unique beers to try, and the brewers, who are free to chat with the festival attendees as they are not responsible for serving their beers.

The Buffalo BrewFest is a popular event, and seemingly more so with beer lovers outside of Buffalo than from the city itself. In an article recapping the fest in The Buffalo News from the following day, a festival spokesperson said there were "three bus loads of people from Toronto". The currency conversion rate might make trips to the United States not as worthwhile for Canadians, but at least good beer does.


Warning: include() [function.include]: http:// wrapper is disabled in the server configuration by allow_url_include=0 in /u/c/cecktor/www.bartowel.com/reports/buff_fest01.phtml on line 139

Warning: include(http://www.bartowel.com/footer.phtml) [function.include]: failed to open stream: no suitable wrapper could be found in /u/c/cecktor/www.bartowel.com/reports/buff_fest01.phtml on line 139

Warning: include() [function.include]: Failed opening 'http://www.bartowel.com/footer.phtml' for inclusion (include_path='.:') in /u/c/cecktor/www.bartowel.com/reports/buff_fest01.phtml on line 139