Halifax is a wonderful city for a beer lover to have a good time in. The people are friendly, the pubs are cozy and the beer is delicious. Recently I spent a few days taking in the sights of Halifax and the surrounding regions of Nova Scotia, and I was thoroughly impressed. This Bar Towel "On the Road" report will discuss my impressions (albeit highly incomplete) of the Halifax beer scene, as I experienced it. This is intended to be a work-in-progress; more trips will be required to complete this report.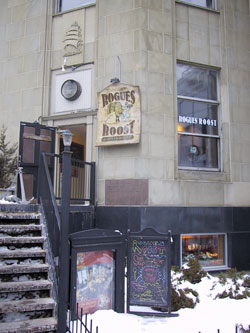 The Rogue's Roost brewpub.
Halifax, a city whose population is dwarfed by Toronto, (363,000 compared to many millions) actually has more brewpubs. Halifax is home to (as far as I can tell) three brewpubs. Toronto precisely two - however, this figure can be argued to three if C'est What is counted (they don't actually brew on premises - only ferment). Toronto's only brewpubs are Denison's and the Granite Brewery - which itself is a Halifax import - more on that later. Regardless, the fact that Halifax has three brewpubs to call its own is pretty amazing.
During my trip in December of 2002, I was able to visit two of Halifax's brewpubs: Rogue's Roost (5434 Spring Garden Road) and the original Granite Brewery (1222 Barrington Street). Halifax is also home to John Shippey's brewpub, which unfortunately I was unable to visit.
First up was Rogue's Roost. This is a very unassuming pub, located in an office building that fronts onto Spring Garden Road, one of Halifax's main downtown streets. The pub is quaint, with a long bar and a number of tables that look out onto Spring Garden. The brewtanks are located at the end of the establishment, and are viewable through large glass doors and windows. Many walls of the pub were decorated by nautical maps of Nova Scotia, which was reminiscent of the Map Room in Chicago.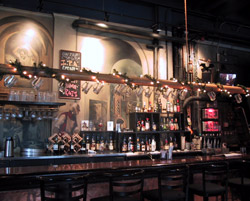 Inside Rogue's Roost.
Rogue's Roost offers a number of unique home-brewed beers, featuring regularly featuring: Rogue's Red, Bulldog Brown, Raspberry Wheat, Cream Ale, Oatmeal Stout and IPA. Seasonal brews include Peated Porter, Pale Ale, Barley Wine and Imperial Stout. During my visit, all of their regular brands (except for the Oatmeal Stout) and the Barley Wine seasonal were available on tap. I found their beers to be quite flavourful, with the favourites being the Barley Wine, IPA and Raspberry Wheat. Rogue's Roost is an excellent brewpub, which should be at the top of any beer lovers' to-do list during a trip down east.
We next traveled to the Granite Brewery (which is within walking distance of Rogue's), on Barrington Street, an area that is experiencing a rejuvenation of sorts. The Granite is located in the historic Henry House, which adds to the pub's English-style atmosphere. The Granite is divided into two sections: a sit-down restaurant upstairs, and a pub downstairs. Having only time for a quick sample and a snack, we ventured to the pub downstairs.
The walk downstairs virtually transported me to an English pub. It was cozy, dark and comfortable, with exposed brick and beam everywhere. This is a place where you could easily whittle away the hours without any idea of what is happening in the outside world.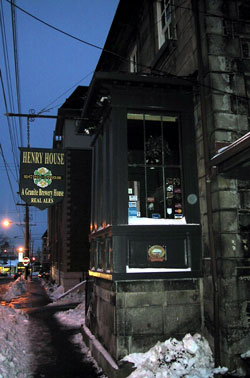 The Granite's Henry House location.

As most of you probably know, the Granite Brewery in Halifax is the sister pub to the Granite in Toronto. The original pub is the Halifax location, founded by Kevin Keefe (brother to Ron, the proprietor of the Toronto location). Due to this close relationship, the beers from the two pubs are very similar. The Halifax Granite offers a selection of beers that Toronto beer connoisseurs will be familiar with: Best Bitter, Best Bitter Special, Peculiar, Ringwood and Keefe's Irish Stout. The beers tasted quite much like what I was used to in Toronto's Granite. So, although the Granite may not offer anything "new" to a seasoned Toronto drinker, this is a great little pub, and worth visiting where the Granite started in Canada. The Granite also has another location in Halifax, located at 1662 Barrington Street.

Halifax is also home to many, many pubs. Although I did not have sufficient time to tour many of them, I do not believe that there are many, if any, "beer bars" that we are used to in Toronto. Although many pubs support local microbreweries Propeller and Garrison, you will probably not find many interesting beers in Halifax beyond the standard Canadian mass-brews and popular European imports.

One pub worth visiting is Maxwell's Plum, located in downtown at 1600 Grafton Street. Maxwell's claims to have the largest draught selection in the Maritimes, and they are probably right. From a sheer volume perspective, their selection is impressive. From my count, they had 56 beers available on draught when I visited, the vast majority of which being mass Canadian brews and European imports. However, they did feature and excellent selection of local microbreweries on tap, including Propeller Pale Ale, ESB and London Porter, and Garrison Irish Red, Martello Stout, Barrack St. Brown and McNab's Pale Ale.

Downtown Halifax has numerous pubs, all within close proximity of each other. Unfortunately, I was unable to visit many of them, so I'll have to update this report after future trips (the new and promisingly-named Halifax Alehouse awaits, along with visits to Propeller and Garrison.)

In closing, one side note about the Halifax trip. When wandering around downtown I happened to stop into a used bookstore, and stumbled upon quite a gem. I discovered an original edition of Michael Jackson's Good Guide to Beer, published in 1977. This book has since been updated a number of times, but the original is quite a treat, to read about what the world beer scene was like before the emergence of microbreweries. This discovery reminded me of Halifax in general: you never know what you may encounter in this fine city.


Warning: include() [function.include]: http:// wrapper is disabled in the server configuration by allow_url_include=0 in /u/c/cecktor/www.bartowel.com/reports/halifax.phtml on line 96

Warning: include(http://www.bartowel.com/footer.phtml) [function.include]: failed to open stream: no suitable wrapper could be found in /u/c/cecktor/www.bartowel.com/reports/halifax.phtml on line 96

Warning: include() [function.include]: Failed opening 'http://www.bartowel.com/footer.phtml' for inclusion (include_path='.:') in /u/c/cecktor/www.bartowel.com/reports/halifax.phtml on line 96