Written by Troy Burtch
The best city in Atlantic Canada is something to behold. From the history at Citadel Hill, the view at Peggy's Cove or hosting the annual Busker's festival; Halifax offers what every tourist expects in a visit. What most tourists and other Canadians are probably not aware of, is the fact that Halifax has more pubs/bars per capita then anywhere else in Canada.
These pubs are joined by Halifax's two functioning brew pubs; Granite Brewery on Barrington Street (sister location to the Toronto establishment) and Rogue's Roost on Spring Garden. Halifax also has two outstanding microbreweries in Propeller and Garrison's with sales that continue to soar. John Shippey's craft beer was once a brew pub at the harbourfront market but is now brewed at the Propeller brewery and served at The Split Crow Pub on Granville Street.
From the huge selection of 60 draught beers available at Maxwell's Plum, the smell of fermenting beer at Rogues, the rich atmosphere at the Halifax Alehouse, to the Henry House's darkened drink room; this city, steeped in historical themes, is a true beer lover's paradise. The micro-breweries offer drinkers more choice than the traditional maritime beers like Keith's or Oland and happy hours keep drinkers satisfied in the late afternoons.
BREWPUBS
Granite Brewery
The Granite is no longer situated in the Henry House, but has taken up permanent residence at 1662 Barrington Street. The Granite Brewery offers 5 English-style ales that have been brewed on site. They are top-fermented, unpasturized ales which are brewed with all natural ingredients. Extra Special Bitter, Peculiar, IPA and more are on tap along with local draught. A Summer Organic Ale is presently being served for the curious beer drinker. The setting in the Granite has a traditional English pub feel with its dimmed lighting and old wooden furniture. A nice mirror overlooks the long slender bar and adult contemporary music lingers in the background. The open windows let drinkers watch the movement of the busy city go by or you can sit in the back and read a book. Memorabilia like glassware, t-shirts etc is also available.
www.granitebrewery.ca
Location: 1662 Barrington Street
Rogue's Roost
"Just try the damn beer" is the motto that the knowledgeable servers at Rogue's Roost live by as they strive to get visitors to experiment with beer selection. Located at the busy intersection of Spring Garden and Queen Street, Rogue's brew pub has been serving Haligonians for years. The Roost offers Rogue's Red, Bulldog Brown, Raspberry Wheat, Cream Ale, Oatmeal Stout, India Pale Ale on a regular basis and serves seasonal that brews include Peated Porter, Pale, Barley Wine and Imperial Stout. The Rogue offers a great window seat overlooking the movement of people on Spring Garden, or have a closer look at the people traffic while sitting outside on their patio. But the best seat is near the bar looking to the right at the beer vats through large windows and visualizing the brewing process.
Location: Spring Garden and Queen Street
MICRO-BREWERIES
Propeller Brewery
Award winning Propeller Brewery was created on John Allen's desire to consume quality beer and with the help of friends and family he opened the doors to his establishment in 1997. Propeller brews four year round beers; Pale Ale, Extra Special Bitter, London Porter and Honey Wheat and has just recently released a 6.5% IPA. Propeller has the honour of being named "best microbrewery 2006" in Halifax beating out Garrison's and Rogue's Roost by the readers of The Coast newspaper. Located on Gottinen Street in the North end of Halifax, Propeller offers tours, taste tastings and a cold beer store that offers clothing, six packs, growlers and more. Gather a group of 10 or more people and pay $15 to take a tour and learn all about the beer.
Visit www.drinkpropeller.ca
Location: 2011 Gottingen Street
Garrison Brewery
Recently, Garrison has taken up new digs in at 1149 Marginal Road across from the infamous Pier 21 Historic site. Launched in 1997 with "Irish Red Ale", Garrison success has since led to the creation of four year round ales; Nut Brown Ale (a 3 star rating by Stephen Beaumont), Tall Ship Amber Ale, and Raspberry Wheat Ale with one winter and two specialty beers. One is Jalapeľo, a spicy yet sweet beer. The doors at Garrison are always open for visitors to come in and have a look around. Singles or growlers along with t-shirts and glassware are available from the beer store. A minimum of 20 people is needed to partake in a brewery tour. But, if you manage to join a group, you will be shown a fabulous time. You are provided with the knowledge of pouring the perfect pint, learning how the brewery got started and of course, trying the beer.
www.garrisonbrewing.com
Location: 1149 Marginal Road
PUBS/ALEHOUSES
Halifax Alehouse
The Halifax Alehouse is located on Brunswick Street down the road from the Halifax Metro Centre. The focus is on providing customers with a great beer experience while they enjoy the sight of servers dressed in 1800's style uniforms. The Alehouse boasts knowledgeable servers and a draught room where all the beer is pushed out of the kegs by "beer gas", giving the beer drinker a true taste of this great beverage. Customers have the opportunity to have a look at the keg room and see how the Alehouse pride's itself in serving great beer. The furniture in the Alehouse is comprised of old oak beer barrels with tops that serve as tables and many bottles of beer from around the world are incased and on display. Beers from Belgium, Ireland, Canada and the USA make up the list for what's on tap and you can choose a bottled beer from England, Canada, USA, Scotland, Germany, Mexico and the Netherlands. Check out their colourful beer menu and read interesting facts and quotes regarding the greatest drink on earth.
Location: 1717 Brunswick Street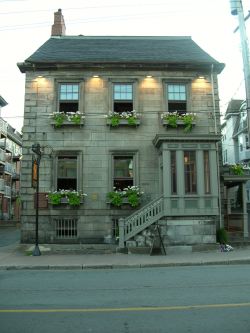 The Henry House
The Henry House is located in the original home of William Alexander Henry, one of Canada's Fathers on Confederation. The house was constructed in 1834 and Henry called it home while was serving as Mayor of this great city in 1870. Read the beer menu closely and you'll notice that it's close to what is being served at the Granite. The thing is Granite brews all the beer that is served at the Henry House. The unpasturized top fermented ales go along great with the atmosphere of the pub. There are three levels to the Henry House, but drinkers will be most interested in the basement that plays host to the pub. The downstairs lighting has been dimmed giving it an English style edge and is furnished with old train booths and old furniture. Rustic wood, original brick, and a fireplace embedded in the wall encompasses the interior while rafters and beams have been left exposed for all to see. Like any well presented pub, The Henry House has a small display of beer bottles incased from around the country along with postcards that past guesses have since sent back. The Henry House is a great destination for drinkers to go to waste the hours away with a good book or a friendly chat with the bartender while enjoying craft brew that even old Willy Henry would have loved. www.henryhouse.ca
Location: 1222 Barrington Street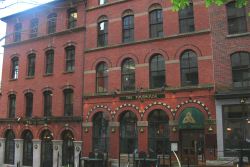 The Old Triangle Irish Alehouse
The home of the Old Triangle Alehouse is the historic building that Joseph Howe wrote about the Halifax government for Haligonians in 1848. The Old Triangle was created by three Irishmen: Kevin Evans, Brian Doherty and Gerry Guest who transformed the pub into a three tiered drinking establishment. The first floor is home to the "Tigh An Cheoil (house of music) where local performers take the stage seven days a week. Walk the few steps up to the "Pourhouse" where you can sit at the bar or pull up a table to enjoy the festivities. Another set of stairs takes you to the "Snug", where smokers can tuck themselves away and enjoy the perils of drink and smoke. The Old Triangle focuses on giving customers a lasting experience by instilling their motto of "food for the body, drink for the spirit and music for the soul". The Old Triangle Irish Alehouse provides an entertaining time with a wide array of beer selection. Many local draughts on tap include Propeller, Garrison, Keith's and Clancy's but they also feature many European imports like Guinness, Smithwicks, KilKenny, Harp etc. For a complete lineup of their beer selection, visit their website at www.oldtrianlge.com
Location: 5136 Prince Street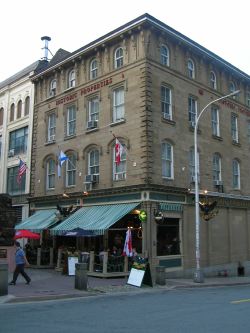 The Split Crow Pub
The Split Crow Pub was voted the best "happy hour" establishment in Halifax by the readers of the popular newspaper The Coast. The Split Crow is named after the first pub that was created in Halifax in 1749 by a Mr. John Shippey who called it The Spread Eagle. He had it built at the corner of Salter and Water streets but it is now located in an historic properties building on Granville Street near the harbourfront. There is a wide selection of beer to choose from, including the three microbrews: Garrison, Propeller and John Shippey's (brewed by Propeller). The selection of Shippey's beer includes: Split Crow Cream Ale, Shippey's IPA, Rafter Red Ale, Amber Ale, Crow Select and Porter (a personal favourite), all very good choices. Shippey's was at one time brewed on the waterfront but Propeller brewery has since taken over in the brewing of the ales. The pub boasts a large clientele ranging from university students to mature pub lovers. Just a short walk up from the harbour, it's a good destination for drinkers and pub fans. For menu items and a complete beer menu, visit www.splitcrow.com
Location: 1855 Granville Street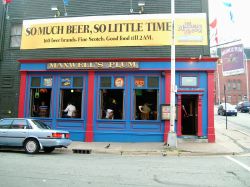 Maxwell's Plum

Maxwell's claim to fame in Halifax is their statement of having more beer on tap than anywhere else in Eastern Canada, with up to 60 selections. Free peanuts and a traditional pub setting go along with a great happy hour where you can get a delicious Pumphouse Blueberry Ale. Maxwell's bar is open till 2am along with the kitchen seven days a week offering drinkers the best of both worlds. The beer selection includes local draught like Propeller, Garrison's, and Pumphouse, with European imports and other Canadian micro-brews. On a side note, the Plum is one of only three places in Halifax that offers McAuslan St. Ambroise Oatmeal Stout on tap.
Location: 1600 Grafton Street

Lower Deck

A fabulous tourist hot spot, the Lower Deck is home to a great lineup of local bands that entertain with a mix of Celtic, old Canadiana or old rock music and Alexander Keith's flows from the taps. Located in the Historic Privateers Warehouse on the harbourfront, The Lower Deck has a large patio that surrounds the lower level and is joined by the Tap Room on the third floor (events), The Beer Market on the second floor (dining) and the Lower Deck where pub goers flock. The motif is largely comprised of Alexander Keith memorabilia and large wooden tables with benches that take a beating whenever the clapping starts. The history regarding the building is enough to make you stop in and take a take a look around. You might as well have a pint while you're their. www.lowerdeck.ca
Location: Privateers Warehouse, Historic Properties, Harbourfront

Other pubs to check out for good times but don't necessarily sell premium hand crafted brews are; The Red Stag in Keith's brewery, Victory Arms pub, Tug's Pub, Pogue Fado on Barrington and Gus Pub in Halifax's north end. CHEERS!!


Warning: include() [function.include]: http:// wrapper is disabled in the server configuration by allow_url_include=0 in /u/c/cecktor/www.bartowel.com/reports/halifax2006.php on line 175

Warning: include(http://www.bartowel.com/footer.phtml) [function.include]: failed to open stream: no suitable wrapper could be found in /u/c/cecktor/www.bartowel.com/reports/halifax2006.php on line 175

Warning: include() [function.include]: Failed opening 'http://www.bartowel.com/footer.phtml' for inclusion (include_path='.:') in /u/c/cecktor/www.bartowel.com/reports/halifax2006.php on line 175