Special thanks go to Greg Clow for writing this report.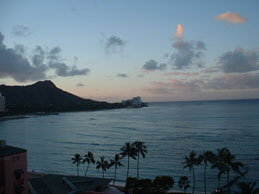 The view from our window.
In late March, 2003, I was lucky enough to escape one of Toronto's worst winters in history for a brief but enjoyable visit to Waikiki and Honolulu, Hawaii for a work conference. Since I'm not exactly what you would call a sun worshipper, and since I don't know how to surf or swim, I spent most of my free time exploring the beer landscape of the beautiful island state. Here is what I discovered:
I arrived late in Honolulu on a Saturday evening, and by the time I got to my room at the Sheraton Waikiki, it was close to midnight (a.k.a. 5 AM Toronto time), meaning I'd been up for around 20 hours, and had spent 10 of those crammed into an airplane seat. Despite being exhausted, I was too wired to sleep, so I decided to wander down to the hotel bar to see what was available. I was pleased to discover that in addition to the expected BudMillerCoors offerings, they had all three bottled beers from Kona Brewing, a brewery on the Big Island of Hawaii that my pre-trip research promised to be the best of the state's three main microbreweries. I ordered a Kona Fire Rock Pale Ale, and while I wasn't quick enough to stop the bartender from pouring it into a heavily frosted mug, I still immensely enjoyed its hoppy aroma and flavour as I looked out over the rippling waves of the Pacific that lapped the beach just a few yards from my terrace table.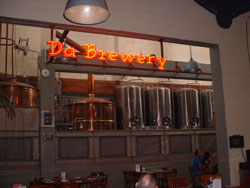 Da Brewery at Sam Choy's
My nerves calmed by the cool beer and fresh sea air, I slept soundly and awoke the next morning ready for a day of beer-hunting. I met one of my conference colleagues at breakfast, and being a fellow beer geek, he was eager to join me on my quest. Soon afterwards, we hopped a crowded bus to downtown Honolulu, and after a bit of walking in the wrong direction, we eventually found our first stop - the awkwardly named Sam Choy's Breakfast, Lunch, Crab & Big Aloha Brewery (580 N. Nimitz Highway - 808-545-7979). Located on the fringe of Honolulu's downtown and financial district, this is one of several restaurants in Hawaii (plus on in Guam) that are owned by chef Sam Choy, and it attracts tourists and locals alike with its generous servings of reasonably priced food - not to mention the respectable selection of house brewed beers.
There are six regular brews in the Big Aloha lineup, including Green Bottle Lager (so named due to it's similarity to a typical Euro-lager), Ehu Ale (a malty Pale Ale), Hefe-Weizen (a good but unremarkable attempt at the style), Kakaako Cream Ale (rather light and bland), Kiawe Honey Porter (big and black with a very unique tobacco aroma), and Steamship Lager (a very solid Dunkel). They also have a rotating seasonal, which on our visit happened to be an excellent IPA.
Our stomachs full of lunch and beer, we headed back towards downtown and the Aloha Tower, a tourist-trap shopping mall located near the docks. Located amongst the souvenir shops and overpriced Hawaiian shirt stores is the Honolulu location of the Gordon Biersch brewpub chain (1 Aloha Tower Market Place - 808-599-4877). We considered stopping in for a pint or two, but decided that the combination of the drinks at Sam Choy's and the hot sun were already doing a bit of a number on us, so we went around the corner for a coffee instead. A quick look at the menu revealed that the beer selection is the same as the other Gordon Biersch locations, while the food menu has a few "Island Style" options including Peppered Ahi Tuna and Tahitian Seafood Fafa.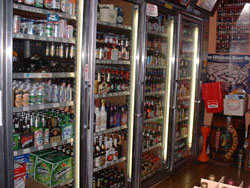 The Liquor Collection.

Heading back towards Waikiki, we made our final stop of the day at the Victoria Ward Center, a massive four-block complex of shops, restaurants and entertainment that caters to both the tourists and the locals. Our main destination was The Liquor Collection (Ward Warehouse, 1050 Ala Moana Blvd. - 808-524-8808), a cozy liquor store with close to 200 different beers available, reportedly the best selection in Hawaii. While I was somewhat embarrassed by the pitiful representation of Canadian brews (Labatt Blue and Molson Canadian!), I was impressed by the array of both American micros and good quality imports. I made myself a mixed six-pack of Hawaiian brews from Kona and the islands' other two bottling breweries - Keoki from Kauai, and Mehaha from Hilo - to enjoy in my room, and noted some US micros that I would come back to pick up later in the weekend.

That evening was spent in the opening session of the conference, following which I returned to my room and tried one of the beers I'd purchased that day - Kona Pacific Golden Ale - which, if you'll pardon the pun, pales in comparison to their Fire Rock Pale Ale.

The next day was spent in a conference room with a large window providing a frustratingly tantalizing view of the blue sky, palm trees and the ocean. Once the day's proceedings wrapped up, I tried another of the local brews I had bought (Keoki's Moana Gold, a disappointing blond ale), and took a leisurely stroll down to the beach before heading out for dinner at the Brew Moon (Ward Centre, 2nd level, 1200 Ala Moana Blvd., Honolulu - 808-593-0088). Formerly part of a chain of brewpubs, the Brew Moon went independent a year or so back when all of the mainland U.S. locations were taken over by the large Rock Bottom chain. According to brewmaster Greg Yount, their five regular beers are basically the same as those brewed during their time as a franchise (albeit with some modifications made necessary by the fact that the recipes left to him by the previous brewmaster weren't that detailed). The standard line-up includes Moonlight Lager (a standard light lager with a bit more hop bite), Moonberry Wheat Ale (unfiltered wheat with artificial tasting raspberry flavour), North Star Lager (a nicely balanced Dunkel), Big Bang Pale Ale (a west coast style Pale with a nice hoppy kick), and Orion's Red Ale (nice caramel aroma, but weak body and flavour).

Where Greg really cuts loose, however, is with the three rotating taps where he tends to reveal his love of stronger and darker beers. On offer during my visit were Black Hole Lager (a kick-ass Schwarzbier that verged on being a porter or stout), Supernova Scotch Ale (a tasty and boozy concoction of caramel malt and brown sugar flavours) and Eclipse Extra Stout (an outstanding smoky/roasty Imperial Stout). During a post-dinner tour of the brewing facilities, I was also lucky enough to taste a sample from the last keg of an excellent coffee porter that was brewed last fall.

As for the food at the Brew Moon - if you like raw fish, I highly recommend the Ahi Sampler which features generous portions of deep red Ahi flesh served three ways: sashimi style, lightly seared, and in a Poke Salad, a traditional Hawaiian dish made with raw fish, onions, peppers, oil and other tasty things. I liked this last dish so much that I followed it up with an equally tasty Poke made with calamari.

After dinner, I took a quick jog over to the Liquor Collection before they closed so I could grab some American micros that are hard to find in Ontario, including goodies from Rogue, Anchor, Sierra Nevada and Deschutes. Then it back towards the Brew Moon to visit their next door neighbour, Ryan's Grill (Ward Centre, 2nd level, 1200 Ala Moana Blvd. - 808-0591-9132). While not a brewpub, Ryan's is one of Hawaii's oldest destinations for beer hunters, with around two dozen taps serving primarily micros and imports, plus a decent selection of single malt Scotch. Unfortunately, the bar area also has a bit of a meet market atmosphere, and was quite packed and loud, especially for a Monday night. I sat at the bar for a moment or two trying to decide what to order, but after getting a somewhat rude refusal to my request to take a couple of photos for this article, I decided to leave without having anything.

Most of my next and final day in Hawaii was once again spent in the conference. Afterwards, I made a quick return visit to the Ward Center to pick up a few gifts for my wife and dogs, and was also lucky enough to find a Hawaiian shirt clearance sale where they were less than half of the cheapest price I'd seen anywhere else. Woo hoo!

Dinner was at an excellent Thai restaurant along with some friends from the conference, and I had a final pint of Fire Rock Pale Ale with my meal, reaffirming it to be one of the favourites of my visit. After dinner, I considered making a quick trip to one final beer destination that Greg Yount had highly recommended - Magoo's Pizza (1015 University Ave., 808-949-5381), a student hangout that features Hawaii's best selection of local, micro and imported beer. But sadly, time was working against me as I had to be at the airport very soon to catch a red-eye back to Toronto. So after one last stroll through the tacky but strangely alluring shopping mall mayhem that fills most of the space in Waikiki that isn't covered by hotels or beaches, my all too brief visit was over, and it was back to Toronto's never-ending winter of 2003. Bleah.


Warning: include() [function.include]: http:// wrapper is disabled in the server configuration by allow_url_include=0 in /u/c/cecktor/www.bartowel.com/reports/hawaii.phtml on line 103

Warning: include(http://www.bartowel.com/footer.phtml) [function.include]: failed to open stream: no suitable wrapper could be found in /u/c/cecktor/www.bartowel.com/reports/hawaii.phtml on line 103

Warning: include() [function.include]: Failed opening 'http://www.bartowel.com/footer.phtml' for inclusion (include_path='.:') in /u/c/cecktor/www.bartowel.com/reports/hawaii.phtml on line 103