In January 2003 I embarked on my annual ski excursion, this time staying closer to home and heading east to Quebec City. The Quebec City and Charlevoix regions are home to some fine skiing mountains, and definitely some fine pubs. The ski trip began with a weekend in Quebec City, and this report details some of the establishments I was able to visit. Rounding out the trip was a jaunt to tiny Baie-Saint-Paul, which is home to a very fine microbrewery.
Quebec is a marvelous city, full of history, architecture, culture and fine gastronomic cuisine. As we all know, Quebec is one of the oldest settlements in North America, and the only city on the continent to have preserved its ramparts. Not only is Old Quebec a national historic site, but recognized as a World Heritage Site by UNESCO (the United Nations Educational, Scientific and Cultural Organization). However, it is not only the history of Quebec that is attractive; so too is its nightlife.
This On The Road report documents our pubcrawl tour of Quebec City. We actually did this pub itinerary over the course of a Saturday afternoon and evening. If you are similarly energetic I encourage you to do so too. It is definitely a blast.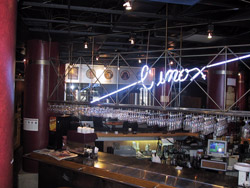 Inside L'Inox.
The pubcrawl begins at L'Inox, Quebec City's only brewpub. L'Inox is located at 27 rue Saint-Andre in the lower city, outside the walls and near the water. It is a nice area, underdeveloped in parts but populated by many quaint stores and cafes.
L'Inox has been around since 1987, and produces a range of interesting beers. When we visited they had available on tap their regulars Transat (a blonde), Trouble-Fete (a blanche) and Trois de Pique (a red). Their beers were quite nice, although we were disappointed at the lack of interesting seasonals available. They have a wide range of seasonals - be sure to check out their web site for the most up-to-date listings.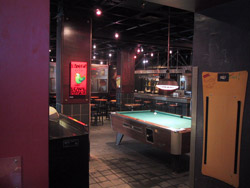 Inside L'Inox.
L'Inox is very sizeable pub, with the brewtanks visible from the main bar area. The pub has many tables for seating and pool, with walls decorated with local artists' work. Unfortunately, L'Inox does not have a kitchen. In Quebec City bars, unlike Toronto, many do not serve food other than snacks such as nachos and cheese. Plan your nourishment carefully during this pubcrawl, or you could find yourself on a liquid diet.
Moving on from L'Inox, just a few blocks away is the Thomas Dunn pub, at 269 rue Saint-Paul. Billed as an "English-style" pub, this bar is quite cozy and faces the Via Rail station near the river. Thomas Dunn has a good selection of taps (U.K. and Quebec) and a wide range of imported bottles. They have a small kitchen offering sandwiches and other easy-to-prepare dishes.
At this point, you'll have to gather up some energy in order to make the trek uphill past the fortifications and into the old city. Don't worry, it will be worth it.
Le Pub St-Alexandre.
Find your way to rue Saint-Jean, a lively street that runs through the old city. Here you'll find a number of great pubs that will make for a large portion of the pubcrawl. The pub tour along Saint-Jean will take you through the old city and past the walls.
First up at 1087 Saint-Jean is Le Pub St-Alexandre, which also bills itself as "Authentic English". This upscale pub features the Interbrew brands found commonly in Toronto, and a number of other U.K. brands on tap. Expect to find Quebec locals McAuslan, Belle Gueule or Boreale on draught as well. They also offer an impressive, albeit pricey, bottled selection, including many Belgians. The St-Alexandre features a full menu.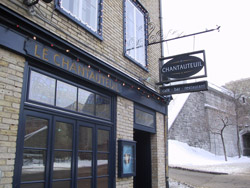 La Chantauteuil.
Just up the street at 1001 Saint-Jean is La Chantauteuil. This is tiny but lively bar is a great place to visit - one of our favourites on the pubcrawl. Situated just before the walls, you will find a nice selection of Quebec micros on tap, including a few from McAuslan. They feature a small kitchen that stops serving during the later hours of the evening.
Keep wandering up Saint-Jean, heading past the walls and out of the old city. Not too far up the street you will find Fou Bar at 525 Saint-Jean. This cleverly named pub is a popular nighttime establishment, with a couple of Quebec micros on tap, and "babyfoot" - otherwise known as foosball. Don't forget to check and see if they have any La Barberie on tap - a tiny microbrewery from Quebec City.
Just a few doors down from Fou Bar lies Sacrilège, located at 447 Saint-Jean. This is a great little pub, and it reminded us of C'est What, only above ground. Their décor featured rough protruding brick walls with very comfortable tables and a selection of card and board games. They also had a great draught beer selection, featuring a number of Quebec micros. Our most interesting beer find was here: the draught-only hemp ale produced by La Barberie. The only drawback of Sacrilège was their menu - there wasn't one. Nachos are the only food item - but the staff do not seem to mind if you wanted to bring in some food from a local takeout. The hours passed like minutes at this pub.
Finishing off the night was the Turf Pub, located about 10 minutes away at 1179 avenue Cartier. The Turf is a very large, two storey pub-restaurant that always seemed to be full. The Turf is a great place to watch a sports game, have some drinks or some food - they feature a full menu. After a few final drinks here we were done for the night.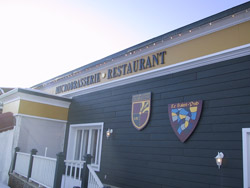 Outside the Microbrasserie Charlevoix.
After a recovery period that including a few days of skiing at Mont-Sainte-Anne and Le Massif (the latter I recommend very highly - an excellent ski experience), we embarked on our final beer destination: the Microbrasserie Charlevoix in Baie-Saint-Paul.
Baie-Saint-Paul is a small town located about 100km east of Quebec City, but only about 30km from Le Massif. It is often promoted as a destination to stay for skiers of Le Massif, as it does not have any direct slopeside accommodation. Baie-Saint-Paul is described as an "artists' community" and this is reflected by the numerous galleries located on its main street. The town is incredibly scenic, as it is wedged in between the giant ridges facing the St. Lawrence River.
Located right in the middle of their downtown main street is the Microbrasserie Charlevoix, at 2 rue Racine at St-Jean-Baptiste. The Microbrasserie Charlevoix can be quickly confused as a brewpub, as the brewery actually has an adjoining restaurant named Le Saint-Pub. However, as I discovered in Stephen Beaumont's Great Canadian Beer Guide, they are separate entities, so the microbrewery can supply beer to surrounding clients, including the Casino de Charlevoix.
In retrospect, I suppose we actually visited Le Saint-Pub rather than the Microbrasserie itself. However, Le Saint-Pub serves Charlevoix beers exclusively on draught, and features five at any given time. Regardless, I do not think there is a pub in Quebec that serves as many Charlevoix beers as Le Saint-Pub.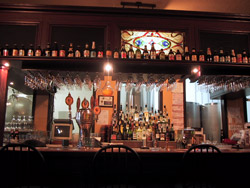 Inside Le Saint-Pub.
Le Saint-Pub was an excellent experience. It is a fairly small space, with a dining area and pub area joined by a small flight of stairs. The microbrewery is visible through windows behind the bar. And the bar features one of the best selections of vintage Canadian beer bottles I have seen.
When we visited they had five brews on tap: La Copine Blonde, La Copine Rousse, La Chouenneuse (a bitter), La Bootlegger (a brown ale) and La Misère Noire (an oatmeal stout). They offer sampler trays, and we tasted all their current offerings - very delicious. They also have a full menu of fine cuisine - this was our finest meal of the trip. The Microbrasserie Charlevoix/Le Saint-Pub was a great way to finish off the 2003 Quebec beer tour - highly recommended if you find yourself in Baie-Saint-Paul.