75 Victoria St.

Directions: Take the Yonge-University-Spadina subway line to Queen station. Walk east along Queen St. until you get to Victoria St. (about 2 blocks). Go south on Victoria until you get to Denison's (at the corner of Victoria & Lombard, about 1 block).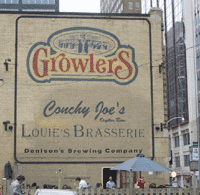 The patio at Denison's Brewing Company.
It is with great sadness to report that Denison's closed in early 2003. They will be missed in Toronto; not only were they a fine pub but an excellent brewery. Hopefully their beers will find their way to palates of Torontonians again at some point in the future.
Three restaurants form Denison's: Growler's Pub, Crazy Louie's Brasserie and Conchy Joe's. Growler's is downstairs, and has more of a pub atmosphere and menu than upstairs, which are more formal restaurants. The decor is great, with high ceilings and luscious chairs in Conchy Joe's, a standard checkered tablecloth setup in Crazy Louie's, and a dark and plush downstairs. Denison's is housed in two historic buildings which were renovated into one. The brewing equipment is visible to all, glassed in a two-floor cylinder up the centre of the building. In Growler's the brewtanks are very close to the seating, creating an interesting conversation piece.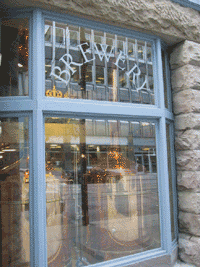 The brewtanks visible from the Victoria St. side.

On to their beers. Denison's brews only lagers, but they are all of high quality. Their flagship beer, Royal Dunkel, is a Bavarian-style dark lager. Their original pale lager, Growler's Lager, which was offered filtered or unfiltered, has been recently replaced by Bavarian Hell. This is a pale Munich-style hell lager, and similar to the original Growler's Lager, is offered unfiltered during the summer. The original Lager is now available only occasionally. These brews are tasty, but I prefer their seasonal slate, which offers more interesting beers.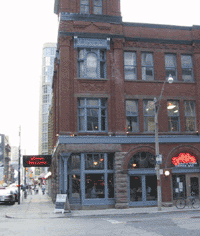 Denison's from the Lombard St. side.

Denison's brews two regular seasonal beers: a Bock from December to April and a Marzen from September to December. Denison's also has occasional specialty seasonals, such as an Oktoberfest, Dunkler Weizen Bock, Maibock or Pils. It is, however, their summer seasonal-turned year-round beer, Weizen, which deserves the most attention. This beer is one of Toronto's greatest local brews. The wheat is imported from Germany by a co-owner. The beer in turn develops a defining flavour of bananas, with hints of clove and lemon. A great beer for a hot day on the patio or a refreshing treat in the winter.

Denison's is one of my favourite places for a beer in the city. Intimate, cozy and comfortable at Growler's downstairs, it is a place to relax, have good conversation and great beer. Denison's usually benefits from the after-work and theatre crowd, but is usually not too busy on a weekend night - there is plenty of seating in the restaurants, and a great patio during the summer months. Definitely a place to check out, if you are not a regular there already!

Denison's website: www.toronto.com/Denisons



Filter News