687 Rye Street, Peterborough, Ontario
Tel. ((705) 741-1819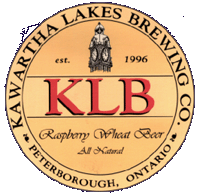 A fine and successful Ontario microbrewery, Kawartha Lakes has been producing tasty beers for almost four years. Beginning in 1996 with their now-famous Raspberry Wheat Ale and Pale Ale as draught-only selections in Ontario pubs, the brewery developed a strong following with beer connoisseurs.
The brewery added Nut Brown Ale and Cream Ale to their slate, and offered their ales in oversize 473mL bottles for sale at only at the brewery. This led to many beer pilgrimages by this writer to Peterborough to satisfy my thirst.
Luckily, Kawartha Lakes now distributes their Raspberry Wheat and Cream Ale in 12-packs in a growing number of Beer Stores. Due to the immense popularity of KLB beers, their Nut Brown Ale will also be available in Beer Stores beginning in September. Drinkers who desire their fine Pale Ale must still trek up to Central Ontario, but hopefully this brew will follow sometime in the future and round out their slate.
Kawartha Lakes was recently written up in the National Post, with the headline on March 8 reading: "The last thing thriving Kawartha Lakes Brewing needs is more customers". It is great to see an Ontario microbrewery succeeding, which has been something of a rarity in this province's microbrewery industry over the last few years.
Where can I find Kawartha Lakes on draught in Toronto?
| | | |
| --- | --- | --- |
| Pub Name | Address | Phone (416) |
| Artful Dodger | 10 Isabella St. | 964-9511 |
| C'est What | 67 Front St. E | 867-9499 |
| Doghouse Riley's | 1365 Yonge St. | 966-5171 |
| Kalendar Coffee House | 546 College St. | 923-4138 |
| Le Select Bistro | 328 Queen St.W. | 596-6405 |
| Old York Bar and Grill | 167 Niagara St. | 703-9675 |
| The Only Café | 972 Danforth Ave. | 463-7843 |
| The Pilot | 22 Cumberland St. | 923-5716 |
| Q Club | 1574 Queen St.E. | 469-3660 |
| Rebel House | 1068 Yonge St. | 927-0704 |
| Rhino Bar and Grill | 1249 Queen St.W. | 535-8089 |
| Smokeless Joe's | 125 John St. | 591-2221 |
| Squirley's | 807 Queen St.W. | |
| Summit House Grill | 40 Eglinton Ave. | 440-0030 |
| The Wedge | 31 Widmer St. | 348-9200 |
Kawartha Lakes' website: www.klb.on.ca