Walkerville Files for Bankruptcy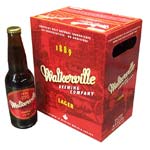 Yesterday's edition of the Windsor Star reports that Walkerville Brewery has declared bankruptcy, although they intend to continue brewing while they restructure and look for financing.
According to bankruptcy trustee Stephen Funtig, "There's been lots of interest and, while we're not in a position to sell right now because of some legal requirements that have to be fulfilled, we're looking to see it continue in business for many years to come."
Since being founded by Karen Behune Plunkett in 1998, Walkerville has won a number of awards for their three lagers, including a gold for their Premium Blonde at this year's Canadian Brewing Awards, a bronze for their Walkerville Lager at last year's World Beer Cup, and a Canadian Brewery of the Year award in 2002.
Posted by Bar Towel News Editor at December 14, 2007 10:49 AM