REMINDER: Southern Tier IPA Launch Events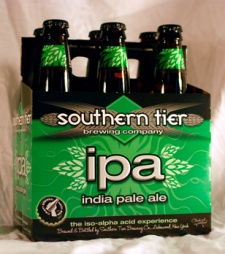 Just a reminder about the two Southern Tier launch events taking place this weekend. There are still tickets available for the dinner, and the Volo event is now free (except for the beer, which you'll have to buy). Hope to see you there!
The Bar Towel is pleased to announce that we're teaming up with import agency Roland + Russell, and Toronto's premier food & drink website, Taste T.O., to co-present a pair of tasting events on Friday, April 25th and Saturday, April 26th marking the arrival of Southern Tier IPA at the LCBO.
Southern Tier is a relatively new brewery from Lakewood in western New York State, but in the four short years they've been in business, they've attracted a ton of acclaim from beer geeks on both sides of the border, so the addition of their IPA to the LCBO general list is quite a coup for Ontario's craft beer lovers. To help celebrate the occasion, Southern Tier co-founder Phin DeMink as well as his brewmaster will be coming to Toronto for special events at two of the city's best beer destinations.
________________________
Friday, April 25th, 2008
Southern Tier Beer Dinner
The Academy of Spherical Arts, 1 Snooker Street (formerly 38 Hanna Avenue)
6:00 PM
$75 (including all taxes and gratuities)
call 416-532-2782 to reserve
Dinner & Beer Pairing Menu:
Butternut Squash, roasted pear and cheddar soup
served with Phin & Matt's Extraordinary Ale
Baked black cod with sweet potato, rapini and a walnut butter sauce
served with Southern Tier Porter
Spicy chicken panang with scented rice, crisp garlic and onions
served with Southern Tier IPA
Bitter Chocolate mousse with fresh raspberries and sauce
served with Southern Tier Raspberry Wheat Beer
The dinner will be hosted by Cass Enright (The Bar Towel) and Greg Clow (Taste T.O.), with Phin and his brewmaster also saying a few words. After dinner, all are welcome to stay to enjoy more libations and shoot some stick on the Academy's renowned pool tables.
________________________
Saturday, April 26th, 2008
Southern Tier Beer Tasting
Volo, 587 Yonge Street
5:00 PM to 7:00 PM
free admission
A casual meet & greet event with Phin and his brewmaster, with Southern Tier's Hoppe, Big Red, Un*Earthly, and IPA available for tasting.
________________________
Posted by Bar Towel News Editor at April 24, 2008 04:21 PM