1st Annual Buffalo Cask Festival - December 5th-7th, 2008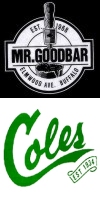 On Friday, December 5th to Sunday, December 7th, 2008, the 1st Annual Buffalo Cask Festival will be taking place from 12 noon to 12 midnight each day at Cole's (1104 Elmwood Ave.) and Mr. Goodbar (1110 Elmwood Ave.) in downtown Buffalo.
There will be no advance tickets or entry fee, and least 15 casks will be available between the two locations on a pay-per-serving, first-come first-served basis. The beers will be available while stocks last, and empty casks won't be replaced, so attendees are advised to come early to avoid disappointment.
This event is being co-presented by Alex Smith of The Gotham Imbiber - who also runs cask events in Manhattan [2nd Annual, Sept. 19-21] and Brooklyn [16th Annual, Nov. 7-9] - and the Great Lakes Brewing News.
Posted by Bar Towel News Editor at September 8, 2008 03:37 PM