The Publican House Opens for Business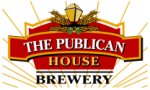 After several years of red tape, renovations and more, the Publican House Brewery (300 Charlotte Street, Peterborough) will officially open for business today at 1:00 PM.
For the initial weekend, they will only be selling take-away 1.9 L growlers and delivering draught kegs to other bars and restaurants. But as of Monday, October 6th, they will be licensed for by-the-glass sales, and will be opening their on-site taproom and outdoor Beer Garden (weather permitting).
Posted by Bar Towel News Editor at October 3, 2008 12:30 PM