Victory Café Winter Cask Ale Festival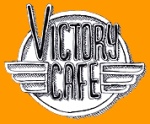 Following the success of its first cask ale festival this past summer, The Victory Café (581 Markham Street) will be hosting a Winter Cask Ale Festival on January 31st, 2009 from 12:00 noon to 7:00 PM.
This festival will feature a broad selection of winter ales covering many different styles to celebrate the season. Sharing the same goals as the previous festival, this event pays tribute to local traditional cask ales and welcomes everyone who would like to sample the pleasures of these wonderful brews.
There will be twelve cask conditioned ales on offer, all from local Ontario microbreweries. The full list of beers will be announced at a later date.
Beer samples will be offered by the half-pint measure, purchased with a beer ticket available at the festival. Hearty food suitable for the season will also be available with a food ticket.
Tickets can be purchased at the door:
$12 - admission, souvenir glass, two half-pint beer tickets, plus one food ticket
$8 - admission, souvenir glass, and two half-pint beer tickets
$4 - additional food ticket
$3 - additional beer ticket
Posted by Bar Towel News Editor at November 16, 2008 08:55 AM