The Brewers Plate 2009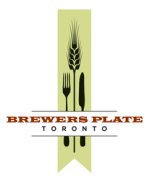 Green Enterprise Toronto, Local Food Plus and Slow Food Toronto present
The Brewers Plate
A Local, Sustainable Spring Feast Celebrating Independent Brewers, Chefs and Food Artisans
Friday, April 17, 2009 - 6:30 to midnight
Hart House, University of Toronto, 7 Hart House Circle
$90 + GST & service charge ($96.86 total) at brewersplate.eventbrite.com
What does a great local feast look like in April in southern Ontario? Artisanal cheeses, breads, and sausages, roasts and stews of wild game and root vegetables, local greenhouse produce, pickles and preserves of every description, fruit pies, and of course, libations from our great local breweries.
Featuring finely crafted beers from Cameronís, Mill Street, Wellington, and Black Oak, just to mention a few. To compliment dishes from Cowbell, The Gladstone, Jamie Kennedy Kitchens, La Palette, The Rebel House, and Veritas, as well as a variety of food artisans and live jazz to round out the evening.
This second annual event celebrates slow food, local-sustainable food and farming, and import substitution in the winter/spring season in the Toronto region.
Posted by Bar Towel News Editor at February 15, 2009 03:04 PM