Out and about in search of Micro Brews


Special thanks to Linda E. for contributing to this report and to David E. for photography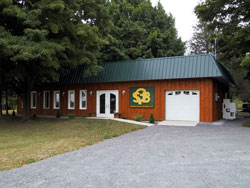 The Glenora Springs brewery.

A visit to Smokeless Joe introduced us to Glenora Springs, a new microbrew from Prince Edward County, an island region located about two hours east of Toronto, surrounded by Lake Ontario and the Bay of Quinte. The beer was quite enticing that a trip to the brewery seemed appropriate. The establishment is located just outside the village of Glenora, where route 33 ends at the ferry.

Glenora Springs Brewery is a two-person operation, owned and managed by brothers John and Jim McKinney. They currently produce and bottle three beers: White Cap Premium Lager, Red Coat Pale Ale and McKinney's Triple Chin Irish Dark Ale. Two were available for purchase at the brewery on the day of our visit. These beers are available at certain LCBOs (in Wellington, Picton, Deseronto, Napanee, and Kingston) and on draught at local restaurants and pubs in Prince Edward County.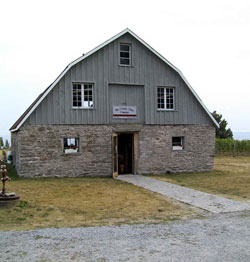 The County Cider Company in Waupoos.

Close to Glenora is the hamlet of Waupoos, and since appreciating cider as well as beer is our hobby, a trip to County Cider Company was required. Here you can get a free tasting of all their products and purchase their draft Waupoos in bottles. They also have an extra dry apple wine and a country premium cider which is their only product available for purchase at the LCBO. Their draft Waupoos is available on tap in many discriminating Toronto pubs including the Rebel House.

Down the road from County Cider is the Waupoos Winery. This winery has been open for only 2 months in the newest viniculture area in Ontario. They have a $2 tasting that is good value for money as you get four 2-ounce glasses from wines in the $9 to $14 range.

Lunch can be had in Glenora at a delightful little Scottish restaurant, The Wheelhouse View, overlooking the water and the ferry. Unfortunately, they did not have Glenora on tap, but they do have Church Key Ale, another new Ontario microbrew.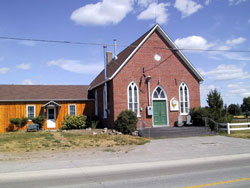 The Churck Key brewery.

Church Key Ale is an impressive draft and thus warranted another brewery trip. Church Key is a single person operation located on route 38 between Campbellford and Springbrook, the tiny village of Pethericks Corners. The brewery is located in an old church with a great display of bottle openers, hence the name. Church Key is currently producing only their Ale in kegs only. The brewer and owner, John Graham, has experimented with other brews, for example, a rosemary and ginger brew, which was an instant sellout. He is planning on expanding into other herb type products that are being eagerly anticipated. There are currently no bottled LCBO products but a fairly large draught distribution network locally and as far as Hamilton.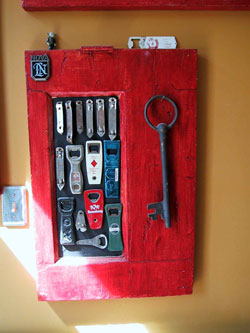 Some of Church Key's vintage bottle openers.

Church Key has its Toronto debut at the Festival of Beer, and their Ale was tapped at Smokeless Joe. In August Joe was rapidly draining a keg of Church Key's Ginger and Rosemary, a refreshing brew with a hint of spice. Hopefully more Church Key will follow soon.

The Two Loons Restaurant on highway 62 south of Madoc (operated by the Kramp family) is one of the Church Key supporters. Here you can get great food at reasonable prices overlooking Moira Lake in the restaurant or the adjoining Loonys Pub. There are only a couple of taps and Church Key is the one to try.

Capers Restaurant in Campbellford is well worth a visit. Ron and Diane Csenar, chef and owners are Toronto (Danforth) expatriates who run a very classy restaurant in a lovingly restored 19th century home. The food is not cheap but is of great value considering the excellent quality of the meals. There is also an adjoining pub, interestingly named the Stinking Rose, serving pub type food. There are only a couple of taps but again Church Key makes the trip worthwhile.

If in this part of Ontario, you might find yourself in Peterborough. The Kawartha Lakes brewery has put the city on the map in the microbrew community, but there is quite a nice brewpub worth checking out. The Olde Stone Brewpub, now five years old, is a great little find in downtown Peterborough.

The Olde Stone is located at 380 George St. North, a nice street in downtown Peterborough that feels like the Beach in Toronto. The Trent waterway is nearby, and the street is lined with a shops and restaurants.

The pub faces George St., and has covered patio out front. The decor is very wooden, with antique-style furniture and random microbrew bottles on the shelves. One of the most impressive things noticed as we sat down was that each table had its own, unique bottle of Dan T's Inferno sauce. A nice touch.

On to their beers - they offer four regular beers and one seasonal:

Or Dubh Stout: This was a rather light, 5.1% stout. Black in colour and a foamy head, it has a noticable sweetness in the aftertaste. Not bad, a little thin for serious stout drinkers.

Pickwick's Best Bitter: An excellent and enjoyable beer. A copper-coloured brew, it possessed a strong bitter flavouring, which was nice to see. Evidently both West Coast U.S. and British hops are used - a nice combination that has produced a great brew.

Red Fife Wheat Ale: An "American-style" wheat, this brew was quite quenching and suprisingly bitter. It had more body than expected from a wheat.

Wilde Old Ale: Their strongest brew (5.6%), this ale has a sweet and pronounced maltiness, with a sweetness that lingers into the aftertaste.

Cream Ale: Their seasonal at the time, it was a golden brew, very drinkable and with a slight bitterness.

The Olde Stone does not product revolutionary brews, but all the beers they offered were enjoyable. The Olde Stone is much like the Granite Brewery - in its decor and beer selection. A fine pub all around, with well-priced and good beer and food.

After a fine lunch and tasting at the Olde Stone, I wandered downstairs to the brewery and had a chat with the brewer, Matt Iutzi. I commended him on the pub, and we chatted about the "revitalization" of brewing in Central Ontario, with the Olde Stone (Peterborough's only brewpub, with a second location already open), Kawartha Lakes Brewing and Church Key. Since the Ale Trail in Western Ontario has gone dormant, perhaps a tour of East and Central Ontario might be able to take its place soon.