Bar Towel Radio Launched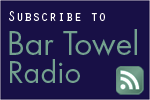 We're happy to announce a new feature of the site, Bar Towel Radio. Bar Towel Radio is a new podcast featuring interviews and discussion about what's happening in the exciting beer scene in Ontario. It's perfect for beer fans who are just getting into beer in Ontario, or for seasoned connoisseurs looking for some new and interesting information. Our first episode has an exclusive interview with the founder of Black Oak Brewery, Ken Woods.
The home page for Bar Towel Radio is here. You can subscribe to the podcast feed here.
Posted by Cass at May 11, 2007 09:21 AM