Three new episodes of Bar Towel Radio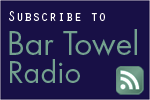 On October 14th at Rowers on Harbord Street, Industry SOS hosted a new event called the Independent Boast & Toast. This event featured various beers from Ontario craft breweries including Denison's, Trafalgar, St Andre, Great Lakes and Nickel Brook.
At the event we recorded a series of Bar Towel Radio episodes with some of the participating brewers. They are now available, interviews with John Romano from the Nickel Brook Brewery, Lindsey Key of Trafalgar Ales & Meads and Michael Hancock of Denison's Brewing Company. Get them from Bar Towel Radio's home page or subscribe to the feed here. Watch for more episodes in the coming days.

Posted by Cass at October 17, 2007 10:20 AM