Ontario Brewing Awards 2008 Winners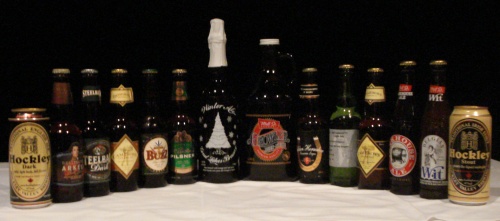 The winners of the Ontario Brewing Awards 2008 were announced earlier this week. The full press release, including the list of winners, appears below:
TORONTO, ONTARIO: May 7, 2008…. They excel in the beer industry, exemplify creativity and are determined to succeed. They are the winning brands of the fifth-annual "Ontario Brewing Awards", sponsored by: Toronto's Festival of Beer, Esplanade Bier Markt, Ontario Brewers and LibationNation.ca.
Roger Mittag, the Professor of Beer, hosted the awards ceremony and consumer tasting at Toronto's own nirvana for beer lovers, the Esplanade Bier Markt on Tuesday, May 6th, from 3:00 – 6:00 pm.
This annual competition provides an opportunity for commercially produced beers to be judged against the best beers in the province. It also provides beer lovers with an opportunity to meet the brewers behind the brand, and sample the winning brews for themselves.
After judging 57 brands of Ontario brewed beer in 15 different styles, here are this year's Ontario Brewing Awards for the Gold, Silver and Bronze medal winners:
NORTH AMERICAN LIGHT LAGER
GOLD – Robert Simpson Brewing Company for Antigravity Light
SILVER – Brick Brewing Company Limited for Formosa Springs Light
PEOPLE'S CHOICE – Nickel Brook for Nickel Brook Pilsner
PILSNER
GOLD – Brick Brewing Company Limited for J.R. Brickman Pilsner
SILVER – Old Credit Brewing for Pale Pilsner
PEOPLE'S CHOICE – Mill Street Brewery for Pilsner
DARK LAGER
GOLD - Steelback Brewery for Steelback Tiverton Dark Lager
SILVER - Brick Brewing Company Limited for Waterloo Dark
PEOPLE'S CHOICE – Great Lakes Brewery for Black Jack
AMBER ALE
GOLD – Cameron's Brewing Company for Cameron's Auburn Ale
SILVER – Old Credit Brewing for Amber Ale
PEOPLE'S CHOICE – Nickel Brook for Nickel Brook Ale
BITTER
GOLD – Wellington Brewery for Wellington Arkell Best Bitter
SILVER – Granite Brewery for Best Bitter Special
PEOPLE'S CHOICE – Granite Brewery for Best Bitter
SPECIALTY
GOLD – Great Lakes Brewery for Winter Ale
SILVER – Wellington Brewery for Wellington Iron Duke Strong Ale
PEOPLE'S CHOICE – Nickel Brook for Nickel Brook Cuvee
FRUIT BEER
GOLD – Mill Street Brewery for Frambozen
SILVER – Nickel Brook for Nickel Brook Green Apple
PEOPLE'S CHOICE – Great Lakes Brewery for Orange Peel Ale
WHEAT BEER
GOLD – Mill Street Brewery for Belgian Wit

NORTH AMERICAN LAGER
GOLD – Great Lakes Brewery for Golden Horseshoe
SILVER – Niagara's Best Beer for Niagara's Best Lager
PEOPLE'S CHOICE – Brick Brewing Company Limited for Laker Lager
CREAM ALE
GOLD - Cameron's Brewing Company for Cameron's Cream Ale
SILVER - The Robert Simpson Brewing Company for Robert Simpson Confederation Ale
PEOPLE'S CHOICE - Nickel Brook for Nickel Brook Draught
AMBER LAGER
GOLD – Cool Beer Brewing Company for Millenium Buzz
SILVER – Great Lakes Brewery for Red Leaf
PEOPLE'S CHOICE – Brick Brewing Company Limited for J.R. Brickman Amber
PALE ALE
GOLD - Mill Street Brewery for Tankhouse Ale
SILVER - Mill Street Brewery for IPA
PEOPLE'S CHOICE – Wellington Brewery for Wellington Special Pale Ale
HONEY BEER
GOLD - Brick Brewing Company Limited for J.R. Brickman Honey Red
SILVER - Old Credit Brewing Company for Holiday Honey
DARK ALE
GOLD - Hockley Valley Brewing Company for Dark Traditional English Ale
SILVER – Mill Street Brewery for Scotch Ale
PEOPLE'S CHOICE – Great Lakes Brewery for Devil's Pale Ale
PORTER/STOUT
GOLD – Hockley Valley Brewing Company for Traditional Irish Stout
SILVER - Mill Street Brewery for Coffee Porter
PEOPLE'S CHOICE – Granite Brewery for Keefe's Irish Stout
Posted by Bar Towel News Editor at May 8, 2008 05:39 PM