504 Iroquois Shore Road, Unit 10, Oakville, Ontario, L6H 3K4
Phone: (905) 339-1037, Fax: (905) 339-0219
The Black Oak Brewing Co. is one of Ontario's newest breweries, producing three fine beers by a group of very dedicated beer lovers.
Founded in 1999 by president Ken Woods and former brewer John Gagliardi, Black Oak unveiled their Nut Brown Ale and Pale Ale to Ontario in November of that year. The two brews were initially only available in bottles, and were kegged in January of 2000.
Both their Nut Brown Ale and Pale Ale are fine, flavourful brews. The Pale Ale has a nice golden colour to complement its hoppy aroma. The hoppiness continues through the flavour of the brew, and lingers into the aftertaste. A pleasant nuttiness joins the hops in the aftertaste. The Nut Brown has a dark brown colour, and a hoppy aroma as well. For a brown ale, the body is suprisingly light, and the brew is quite smooth. The hoppiness and roasty flavour are prominent and continue into the aftertaste.
In the summer of 2000, Black Oak released their third brew, Premium Lager. Since its release, no doubt aided by the summer months, the Premium Lager has become Black Oak's best-selling brew.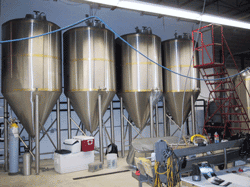 The Black Oak brew tanks and bottling line.

The beers of Black Oak are all very flavourful and refreshing. However, the styles available are quite common in the Ontario microbrewery scene. Pale ales, nut browns and lagers can be found in abundance throughout the province. In order for a microbrewery to differentiate itself, any start-up needs to brew something unique. Kawartha Lakes did it with their Raspberry Wheat a few years ago; now they are a thriving micro in the province.

However, upon visiting Black Oak in the late fall of 2000, the Bar Towel learned that Black Oak was indeed taking some brewing chances. Alongside their three core brands, Black Oak releases keg-only seasonals every so often. This was an excellent idea, and will add an element of freshness to their brand portfolio, able to test more daring styles without taking too much risk.

In the fall of 2000, Black Oak released their first seasonal, an Oktoberfest. It was available on draught for a very limited time at Toronto pubs C'est What and the Rebel House. If you attended C'est What's Festival of Small Breweries in October, it was available for sampling. However, it did not last - which was a good sign. Following up their Oktoberfest, Black Oak has produced a Saison and a Christmas Nutcracker. Black Oak's future seasonals are greatly anticipated as a nice complement to their slate of brews.

The success of Black Oak can not only be credited to the merits of the brews themselves, but to the dedication of the president: in his past life Ken worked at Denison's Brewing Company. Ken and his staff have a real love for beer and brewing, and it shows.

Where can I find a Black Oak in Toronto?

Black Oak can also be found in the Donway/Lawrence, Bloor/Spadina, Yonge/Price, 1089 Kingston and Queen's Quay Beer Stores. As well, their beers are available in the Crossroads Plaza (Weston/401), Bayview Village, Fairview Mall, 213 Danforth, Dufferin/Finch and Queen's Quay LCBOs.

Black Oak's website: www.blackoakbeer.com