786 Broadview Ave.

Directions: Take the eastbound subway to Broadview station. Café Brussel in on the west side of Broadview, just north of Danforth.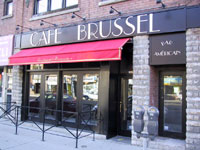 Cafe Brussel's new location on the Danforth.

Toronto's only authentic Belgian café, and one of The Bar Towel's favourite Toronto bistros. That being said, Café Brussel is one of Toronto's best places to have a fine beer, especially Belgians. Currently they stock on tap the only Belgian draught beers available in Ontario: Stella Artois, Leffe Brune, Hoegaarden White and Belle-Vue Kriek. Café Brussel also stocks many Belgian bottled beers, as well as many Quebecoise beers (many of which, such as Unibroue, are based on Belgian styles). Further, all their beers, including the bottled ones, are served in their appropriate glassware, and at reasonable prices.

Café Brussel also has an extensive selection of wine, and their food is wonderful. Appropriately, they offer one of Belgium's national dishes, mussels, served dozens of ways. My personal favourite: the Belgian beef beer stew with frites - fantastic.

Definitely an excellent place to check out. Café Brussel is a relatively formal establishment, and be sure to make reservations for a weekend night.

Update (Summer 2001): Cafe Brussel is moving. As of the beginning of August, renovations were well underway for their new location on the Danforth, just east of Broadview (see picture). It looks like the old location (just around the corner on Broadview north of Danforth) is closed while they move. Hopefully by September or early fall they will be settled in their new, larger location.

Highly recommended.
Bar Towel
News
Breweries
Brewpubs
Good Pubs
Buying
Good Beer
Toronto
Pub Walks
Beer Reports
Forum