This section is dedicated to buying good beer in Toronto. It can sometimes be a challenge acquiring unique beer in Toronto, but many fine beers can be found if you know where to look.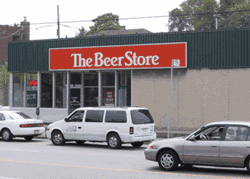 The Avenue Road north Beer Store location.

The Beer Store, the primary retailer of beer in the province, focusses on mass-marketed and distributed beers. However, recent policy changes have made it easier for small breweries to have their beers stocked in Beer Stores. As such, the selection of domestic microbrewed beers in the Beer Store is on the rise. One cannot purchase a Belgian lambic or Trappist ale at the Beer Store, but it is the best place to find a wide selection of Ontario and out-of-province micros.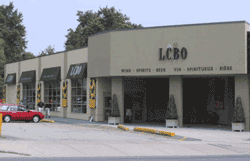 A LCBO/Vintages location, on Avenue Road north.

The second and only other alternative for buying beer in the province is the Liquor Control Board of Ontario, known as the LCBO. The LCBO is the wine and spirits retailer of the province, but they also sell beer. They do regularly stock some unique beers such as La Chouffe and Aventinus, but for the most part their beer selection tends to be other countries' domestic mass-market brews, and of course Canada's mass-market brews. The LCBO also stocks quite a few Canadian microbrews that are not distributed through the Beer Store.

In the past, the LCBO through their a premium wine and spirits division known as Vintages, imported rare and premium beers. However, Vintages has ceased to import premium beer, and has turned this responsibility over to the LCBO itself. Since taking on this responsibility, the LCBO has been releasing themed beer releases every few months, including Stouts & Porters, Fruit Beers and Christmas Beers. Please check the Bar Towel News for the latest beers releases at the LCBO.

Through the LCBO's Consignment Program, specific beers can be purchased through brewery agents directly, beers that are unavailable at LCBO stores. Unfortunately, the Consignment Program is difficult for casual beer drinkers to utilize, as full cases must be purchased. However, since Vintages is ceasing to import beer, this program is a welcome alternative to the selection of the LCBO and Beer Store. The Consignment Program section - direct purchase from Ontario beer importers lists beers available through the program, and ordering information.

However, a jaunt across the border will reveal beer selections only Ontario could dream of. For those a little more adventurous in the quest for good beer, in this section there is a profile of Premier Gourmet, a premium beer superstore just outside of Buffalo, with probably the most substantial beer selection in the northeastern United States.

In the future, a section for The Beer Store will also be added. Also, capsule beer reviews will be available here, to aid in good beer decision-making.

Premier Gourmet - one of the largest beer stores in the northeast United States

The LCBO Consignment Program - direct purchase from Ontario beer importers

Vintages - NOTE: Vintages no longer releases beers



Filter News