Neighbourhood:
Forest Hill, Deer Park
TTC:
Full walk: Eglinton west subway
Alternate, short walk: Midway between Eglinton West and Eglinton subway stations, Eglinton at Chaplin.
Parking:
TTC parking lot at Eglinton West is free after 3:00pm. Streets north of Eglinton and the Allen: Old Forest Hill and Wembley, have unrestricted parking after 10:00 am. If you are doing the short walk, Gilgorm and surrounding side streets have unrestricted parking.
Pub:
Bow and Arrow, 1954 Yonge St.
Beers:
Great selection. Around 20 taps, including a dozen microbrews.
Meeting People:
The belt line is serious jogging country. They don't stop for anything. Along the Forest Hill streets other walkers and workers often stop to chat. The best meeting spot is Forest Hill park, especially on warm afternoons when the sunbathers gather.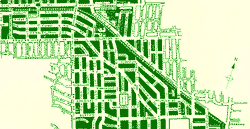 Click on the map for a larger version.

After spending some time exploring New York, it can surely be said that Toronto's green spaces are superior to those of that major megalopolis. We do not yet have an area of the organized magnitude of Central Park, but we can all root for the Downsview development. This long overdue walk, therefore, has a long and a short version, depending on how much exploration of green you desire. The full walk, starting at the subway takes about an hour each way. The half hour version begins and terminates at Eglinton west and Chaplin.

The outgoing portion of this walk follows the Beltline Discovery Walk, so all you have to do is follow the signs. There is even a map at Eglinton west subway for you to peruse. However, the second signpost at Eglinton and the Allen appears to be directing you to take a stroll up the expressway. Take care and look for the northbound, claustrophobic path bordering the "wall". Pass three dead end streets, cross the main road at the bridge and the beltline proper branches off to the east. Walk to the side of the path or faster travelers will likely mow you down. Look at the flora and fauna and peek into assorted backyards.

As you cross Old Park Road, MacNicol Park is worth a diversionary stop. Bathurst is a problem to cross, a light is close for the safety conscious. The walk from here to Chaplin is not vastly scenic unless you are into examining balcony-decorating styles. You can have a run around Memorial park before you proceed under the Eglinton Bridge where you will see stairs rising to your left. The 'short' walkers will descend here to start the walk. 'Long' walkers cold go up them for a break at the Coffee Time at the top, which by the way is licensed.

'Short' walkers enter the belt line by descending the stairs on the south side of Eglinton, just west of Chaplin. Keep strolling along in a southwesterly direction towards Oriole. You will have lots of company as this is a well-used trail. House owners along the route must be used to people peering onto their garden and back windows with envy etched on their faces. Before Oriole you will traverse the charming little Forest Hill Park where you can avail yourself of a park bench, if so inclined. Cross Oriole to continue along the belt line. This can be a tricky crossing, if you have any klutz in your nature, again use the light. When you emerge onto Lascelles turn left and head northeast through the park to Chaplin. Go east to Yonge and north to the pub.

The Bow and Arrow is a beer aficionados delight. There are plenty of different brews including McAuslan and other Ontario microbreweries. The staff is friendly and knowledgeable. The food is excellent, leaning towards restaurant rather than pub, in quality and cost. There are excellent daily specials with fare such as red lentil and spinach soup. Your burger ($7.99) can be beef, chicken or veggie. British pub staples also abound. The décor is "olde English pub" style, with a substantial bar which seems to be populated all day and night. There are several well used dart boards to the side. There is no patio, but large windows open to the street and there is a prized table in its own window alcove. Special events include regular "beer banquets" matching beer and food. The client group is a good cross section, but tends to be fairly well heeled and restrained.

To retrace your steps, ponder the fact that you are right at the Davisville subway stop and could just hop on the TTC. However, remember that you are on a discovery trek and walking off the beer, so double back through the park to Lascelles, where you left the belt line trail. South of the trail turn right and go west along Kilbarry. Follow the boundary of Upper Canada College and go north on Forest Hill road to Hillholm. Proceed west following Hillholm until it meets Russell Hill, where you traverse north. Turn off on Ormsby and follow it to Spadina where you can head back to Eglinton if you started the walk at Chaplin.

To return to the subway, cross Spadina and proceed west on Chadwick (just north of Ormsby). Cross Old Forest Hill and go right on Dewbourne. If you knew the owners you could cut off that corner by walking along a magical little path through the garden of the house on Vesta. As it is, you should probably just admire the landscaping. Follow Dewbourne to Rosemary and bear northwest out to Bathurst.

Go north and cross Bathurst to the northwest corner. Continue north one block and turn west onto Wembly. At the next intersection, turn right and walk up to Old Forest Hill and make your way westward again. You can be adventurous and walk on the median. Cross Old Park and at Glen Arden go back south to Wembley whose west extension returns you to the start of the beltline where you can relocate your car or TTC, provided you did not get injured by a flying jogger on the belt line, got sick with envy ogling the houses in Forest Hill, fell asleep in one of the parks etc... etc..

Happy wandering.
About
Bar Towel
News
Breweries
Brewpubs
Good Pubs
Buying
Good Beer
Toronto
Pub Walks
Beer Reports
Forum