| | |
| --- | --- |
| Neighbourhood: | North Toronto (York Mills) |
| TTC: | York Mills station, along the Yonge subway |
| Parking: | Brookfield and surrounding side streets |
| Pub: | The Sailor's Dickey, 3391 Yonge St. |
| Beers: | A dozen or so taps, including Muskoka Steam, Double Diamond, Kilkenny and Strongbow cider |
| Meeting people: | You meet dedicated walkers, leisurely strollers and local residents, as this is a low vehicular traffic area. Most walkers around here tend to be of a "certain age". If you are youthful you might get mistaken for a workperson. There is a trendy grocery store, however, that might yield potential companionship. |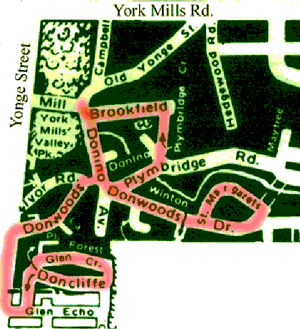 This is a walk along paved roadways, relatively short in distance as it involves circling back and forth. There is a steep hill that will challenge some.
Exit York Mills subway at the south end and walk south through the park to Brookfied and Mill. Or, get out of your car, wherever you chose to leave it, and proceed to the indicated corner. Stroll east on Brookfield a short distance until you hit Plumridge Ct, make a right on Plumridge Ct, crossing the creek. Don't go along Plumridge Rd. as you will get stuck on the wrong side or the creek and there are no pubs down there.
After crossing the bridge you can rest on a park bench and pretend to be a native of the area. Make sure that you are dressed for the part, however, preferably something tweedy or possibly Burberry or a Liberty print.
Proceed east (left) on Donwoods Dr. and loop left on St. Margaret's and double back along Donwoods Dr. to retrace your steps. This is a land locked area. You cannot escape through the East End of Donwoods unless you paddle through the creek. This has been done, but I would not recommend it. Traverse back along the previous path but instead of going back over the Plumridge bridge; continue bearing left up the Donwoods Dr. hill. Check that you are on the right road. You can't get lost as most streets dead end but you can confuse a Dr. for a Rd. or Gr. or Ct. They seem to like repeating names in this area. The Donwoods hill is a challenge for the weak. If you thought that you were in good shape you will now find out. This section of the walk is designed to make you appreciate the beer waiting for you at the top.
At Yonge head south past the grocery store and you will soon drop thankfully into your seat in the pub.
The pub itself is warm and welcoming. It is a fairly large single room decorated as expected in a nautical theme. Deep red plush booths are a pleasure to slide into and the fireplace is a welcome addition on the cooler days. The front windows open to the street where there is a small front patio. A long wooden bar accommodates those who do not want a restaurant atmosphere and a well used darts area takes up a back corner of the pub. Food is standard pub fare, but surprisingly the steak and kidney pie actually contained kidney, a delicacy that seems to have slipped off Toronto's Epicurean list The bangers and mash came with a side order of fried onions and another of baked beans. Visit this pub for comfort food.
To get home again, take a quick diversionary walk to work off those calories, by heading east on Glen Echo and north on Doncliffe Dr.. This turns into Doncliffe Pl. and gives you access to Forest Glen Cr. and joins back up with Doncliffe Dr. Meanwhile you will have strolled by the impressive Rosedale golf club. Doncliffe takes you back to Glen Echo, back to Yonge and the Donwoods hill. It is not nearly as much of a challenge going back down the hill unless you are walking in the middle of an icy winter. This return walk takes you back the way you came but the different perspective on the hill makes it quite worthwhile. From Donwoods locate the subway or your car. Each should be in the same spot as you left them. You should be able to proceed safely home provided you did not collapse on the hill, die from envy looking at the houses or decide to crash the golf club.
Happy wandering.
About
Bar Towel
News
Breweries
Brewpubs
Good Pubs
Buying
Good Beer
Toronto
Pub Walks
Beer Reports
Forum