| | |
| --- | --- |
| Neighbourhood: | Sherwood Park |
| TTC: | Eglinton Subway, along the Yonge subway |
| Parking: | Before 6:00 PM weekdays, all side streets are 1-hour parking. There is unlimited free parking after 5:00 and all day weekends. There are many pay lots. |
| Pub: | Gabby's Grill House, 2572 Yonge St. |
| Beers: | Standard taps. Rickards Red is as exotic as it gets. |
| Meeting people: | Multi opportunities in this area. Carry a ball with you and throw it in someone's direction when you are around the arena. You can use it later to attract a dog with friendly owner or bounce it down Yonge Street and see who thinks that this is aberrant city behaviour. |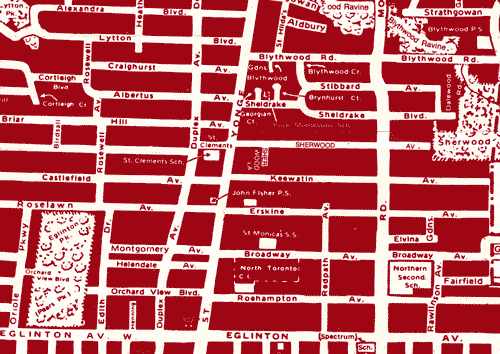 You might want to do this walk in good weather. There are wooden stairs in the outgoing session and an unlit forested stroll that can be slippery, on the return path. The walk to the pub may take you a bit longer than the regulation half hour, but you are always in hailing distance of Yonge, so you can shorten the distance if you or your companion starts complaining of fatigue or excessive thirst.
Start the walk at the corner of Eglinton west and Duplex. If you are in the subway you can access this intersection via the bus depot. Head north on Duplex and west on Orchard view. Cross Edith [interpret that phrase as you will] and at the dead end [how cross were you?] go right into the Toronto arena parking lot. Skirt the arena along the westward path towards the baseball diamond. Ahead is a new flight of stairs waiting for your ascent. Before you accept the stair challenge you might want to observe or join some of the numerous ball sports that are usually occupying this area. At the stair summit progress forward to Oriole Parkway and turn right.
From Oriole Parkway turn right onto Roselawn parallel to the north edge of Eglinton Park. You may wonder why you bothered with the stairs when you could have cut straight across the grass. Remember that you are doing this for exercise and looking for adventure. You can entertain yourself by sympathizing with the motorists who will be cursing the "traffic calming" speed bumps on this street.
Proceed north up Rosewell. At Briar Hill there is a jog in the road and at Albertus another jog. These jogs may stimulate your steps. Note the bike path signs. Maps of Toronto bike paths are available from your local library. These routes often make great walking excursions provided they are not too heavily traveled.
At Lytton you finally abandon Rosewell. Go left, west, and venture down into the tiny park on your left, at the intersection of Lytton and Alexandra. This is a cozy little garden that seems to encourage trysts. If you are that way inclined and have a cooperative partner, you might want to linger awhile.
From the park head north on Alexandra, past the lawn bowling, and follow Alexandra out to Yonge St, where you head back south to Albertus and the pub.
There are several Gabby's establishments in Toronto, but each has unique features. This is a small inviting pub and you may have trouble getting seated on a weekend evening. There is a small front patio and a small bar at the back of the pub. The place could never be described as spartan, as it is decor heavy with stuff on every wall surface not occupied by the booths that shelter the customers. The beer selection is a bit sparse, however, but you need to support the mass producers once in a while. Food is regular burger fare with wraps and assorted sandwiches. There are good pasta specials. Portions are large and prices reasonable. If downstairs is busy, go aloft. The second floor has pool tables video televisions etc… and a + 21 age restriction.
To return home, cross Yonge [use the light] and go east along Sheldrake, the street just north of Gabby's. Sheldrake veers right at Stibbard but continues east across Mount Pleasant. You reach the ubiquitous no exit sign and a barrier to discourage entry to the green space ahead. Forge around the barrier and take a rest on the park bench to survey the scene. Wander left down the visible but unmaintained foot created footpath. Descend into the woods a few steps. Take a friend with you at night, this is not well lit. Proceed through the clearing, tell fairy tales… big bad wolf… gingerbread house…Stairs, however, are soon evident and these will lead you down to the main paved pathway. Go right at the bottom of the stairs along this main pathway. You are in Sherwood Park. This is a great park to explore. You could easily spend a full day. However, there are no pubs! Return another day with a picnic. Perambulating along the path, a utility building is soon evident. At this point, take the right fork in the path and head up the hill back towards Mount Pleasant. You will soon be back in civilization.
The main entrance to the park where you are exiting is Sherwood Ave. Go west to Mount Pleasant and then south one block to Keewatin. You are sampling the sterile 50's and 60's architectural monstrosities that dominate this area. Forge west toward Yonge on Keewatin past the first mammoth high-rise to #170. Turn south to the Redpath parkette, a mini man made oasis surrounded by monoliths. Continue south along Redpath past some great examples of infilling to Eglinton. Continue west to the subway or car and proceed homeward, unless you decide to stop at one of the masses of other pubs that now tempt you as you wend your way along this strip and write up a review to send into this site.
Happy wandering.