| | |
| --- | --- |
| Neighbourhood: | North Toronto (Lawrence Park/Sherwood Park) |
| TTC: | Lawrence station, along the Yonge subway |
| Parking: | St. Edmonds and surrounding side streets [not 8:00-10:00AM] |
| Pub: | Mad Monty's, 2655 Yonge St. |
| Beers: | 7 taps, including Big Rock Grasshopper Wheat, Amsterdam Nut Brown Ale, Creemore and Guinness |
| Meeting people: | Talk to fido, the four legged kind, not the kind you stick in your ear. This is dog-walking country. |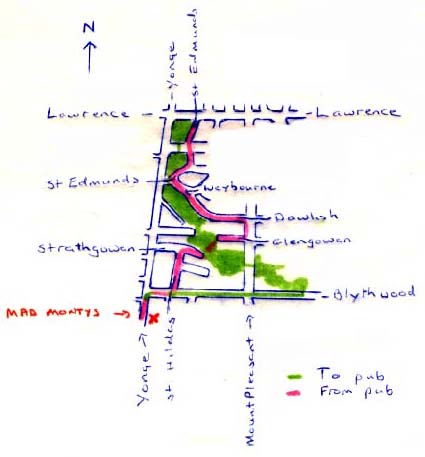 I suggest this walk be done during good weather, daylight or bright moonlight (romantic), as there are poorly lit and slippery sections in the ravine.
Begin at the SE corner of Yonge and Lawrence. Pop in the library or have a nostalgic play on the swings if you like. Wend your way south through the parks to Alexander Muir Gardens, south of St. Edmonds and Yonge. Rehearse a bit of Shakespeare to befit the setting and stroll off along the paved path by the tennis courts. Avoid this park on summer weekends. The flowers are gorgeous but you will end up as an unwelcome addition to someone's wedding photos.
Keep going east following the creek, (drain?) under Mount Pleasant. Don't mind the graffiti on the bridge, this is a large urban centre after all.
Veer south after the bridge following the water and you will wind up to Blythwood. Proceed west on Blythwood past Mount Pleasant to Yonge. This is a busy street so don't play in the traffic, just walk on with determination - the pub is only 7 minutes away. You have made it to Sporting Life. On the South side of their parking lot is our destination.
Mad Monty's is an intimate pub, seating about 40 in the main floor area, this space, darkly decorated with polished wood, reminds one of a pullman car or galley of a ship. A second floor is open most evenings and tends to host the more raucous. Pub food and beers are good. Wing specials are Monday and Tuesday. There is live music (second floor), Thursdays. There is a tiny front patio, great for people watching and jeering at the people stuck in the often prevalent traffic jams. Frequented by lots of local inhabitants, this pub is fun, comfortable and good value.
It's now time to relocate the car or head back to the subway.
Double back north up Yonge to Blythwood and go east on Blythwood to St. Hildas. Progress north on St. Hildas to Strathgowan and go east.
Venture through the barricades (be adventurous) cutting down through the ravine. At the creek culvert, close to the valley floor, veer at right angles from the path and head over to the stairs (nice new banister) that take you up the other side of the ravine. Go left at the top of the stairs. Hold hands here as this is one of the slippery spots. Go right at the fork and you are back in civilization. Continue east on Glengowan. It is evident that much premium beer in consumed by the residents of this street.
Turn north on Mount Pleasant one street, then west on Dawlish.
Keep going, west again on Wexbourne, which blends into St. Edmonds.
A northern progression should return you to your car or Lawrence and the subway, provided you did not imbibe too much at the pub, it was too dark to follow the directions, you got diverted in the woods, you fell over, your walking partner got fed up etc., etc.
Happy wandering.