| | |
| --- | --- |
| Neighbourhood: | Casa Loma, The Annex and Wychwood Park |
| TTC: | St. Clair West subway, along the University-Spadina line |
| Parking: | After 10:00 am there is unrestricted parking on side streets north of St Clair, as long as you are not close to the subway's northern entrance. |
| Pub: | Mayday Malone's, 1078 Bathurst St. |
| Beers: | Dozen or so taps, including Steam Whistle, Upper Canada, Amsterdam, Guinness, Strongbow. |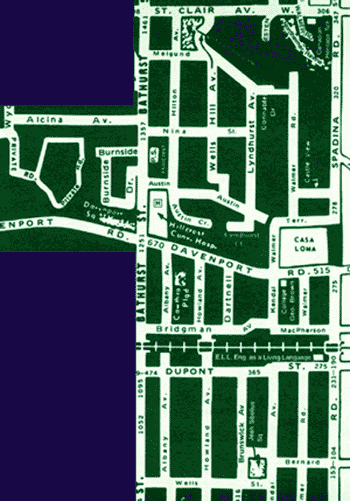 Meeting people...At Casa Loma, tourists will inevitably ask you for directions. There are several parks with skating rinks that will enable you to "break the ice' with other park frequenters. In Wychwood Park you will, in all likelihood, be approached by a bemused motorist who has mistakenly driven into the area and is unable to find their way out. Any of these scenarios should allow you to strike up a conversation with a kindred soul.
This walk is well within the half hour there and half hour back time limit. It is well paved and well lit and therefore can easily be traversed in all weathers. There is a large flight of stairs at Casa Loma, but you are fortunately descending them, so unless there is a major ice storm, just dress appropriately and enjoy the exercise. Sections of Bathurst are in transition and rather unappealing, and as usual, it is best to walk accompanied during the night.
Depart from your car or exit the subway to the south side of St. Clair at Wells Hill Avenue. Here is the first park and skating rink. Slide around at will but then proceed south on Wells Hill to a very convoluted intersection where you follow the directions to Lyndhurst. Ignore the "no exit" and "no access" to Casa Loma signs and proceed along Connable Drive. Keep going, although it definitely does appear to be a dead end. Never fear, there is a hidden pedestrian route penetrating the fence.
This small section of path is not ploughed, but it is well traveled, and easy to pass through. Continue south on Walmer to the end. Cross the street to Casa Loma but do not enter the grounds. Walk east towards Spadina House. Turn right at the Spadina museum and head south along the path skirting the Casa Loma grounds. Admire the view as you descend the stairs to Davenport. Continue south along Spadina past the Toronto Archives to the south side of Dupont and go west to meet up with Walmer again. Direct yourself south to Bernard. Make a right at Bernard and continue west to another park and rink. Slide around again but then loop south around the park on Kendall and Wells. Follow Wells west out to Bathurst. Cross to the west side of Bathurst and head north to the pub. This is an interesting section of Bathurst. You can get your palm read, purchase some charming leather (rubber?) undies with chains attached, or a bust of Elvis.
Mayday Malone's is quite a large establishment with a couple of pool tables, darts and large bar area. There are booths, regular tables and stand up tables, so if a crowd arrives you can find a spot to prop yourself up. The walls are exposed brick with an eclectic selection of framed posters with no discernable theme. Large front windows open to the street. During the day the imbibers tend to be a mixture of groups with a fairly high "arty business" crowd. Evenings attract a mixed cross section again, including the university students who are attracted by the cheap prices as well as the good food, drink and atmosphere. This is a really "good value for money" pub. In fact it is downright cheap. Domestic beer is $4.35 per pint, including tax ($4.90 premium). Sandwiches start at $3.50. There are half-priced nibbles from 3 - 5 PM and regular half price dinner specials (e.g. pizza on Saturday, wings on Tuesday). Sunday has a $24.99 dinner for two, including wine or beer. Food portions are mammoth and fresh.
Exit the pub and head north on Bathurst to Dupont. Continue north under the tracks past the TTC yards. This is not an attractive part of the walk, so walk fast and just think about exercising off the beer calories. At Davenport, cross to the NW corner and head west .It is amazing to find that this industrial area is steps away from one of the most exclusive residential areas of Toronto.
On the north side of Davenport walk to the Wychwood Park gate (closed to traffic), take the footpath around the gate and enter. You might want to give yourselves some time just to wander around this area. It is quite magical. The road is privately maintained and although accessible to pedestrians, there is only one limited access automobile entrance/exit in the NW corner by Tyrrel. The road through Wychwood Park is circular like a balloon on a string. The string is the car access in the NW corner. There is one diversionary crescent in the SW corner of the Park. There are two pedestrian only access points. The gate on Davenport and a footpath to Alcina at the brass plate reading "77" at the north tip of the park. Once in this residential enclave, the fastest way out is to take the right fork in the road, stroll north and exit via the footpath at "77". Alternatively, take the left fork and exit via the "balloon string" to Tyrrel. In any case, you cannot get lost as you will circle around to one of the exits.
If you exit on Tyrrel, continue north on Wychwood to Alcina, the street you will be on if you took the "77" route, and go east back out to Bathurst. Cross Bathurst at the light and proceed east along Nina to Hilton. Turn north up Hilton and you will soon be back at the subway or your car, provided you did not take a diversionary route back to visit Casa Loma, Spadina house or the Archives, fell over on one of the skating rinks or got lost forever, doomed to circle Wychwood Park, because someone obliterated the "77" signů
Happy wandering.
About
Bar Towel
News
Breweries
Brewpubs
Good Pubs
Buying
Good Beer
Toronto
Pub Walks
Beer Reports
Forum