52 Wellington St. E, 955-0887

Directions: Take the Yonge-University-Spadina subway to Union Station. Go out and walk east on Front St. to Church St. (about 3 blocks). Walk around the Flatiron Building (the red triangluar building at the corner of Front and Church). Wellington St. runs along the north side of the Flatiron Building. The Reservoir Lounge faces the Flatiron on Wellington St., just west of the Pizza Pizza.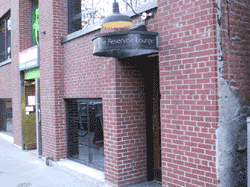 One of Toronto's "hip" establishments, incredibly being able to sustain its momentum even to today. The Reservoir Lounge is a relatively small bar, in the basement of 52 Wellington St. E, facing the famous "Flatiron" building. The décor is simple: protruding brick walls, black ceilings with exposed pipes, couches lining the wall and many candles. A nice circular bar is prominent in the Reservoir, with an overhanging glass rack and Christmas lights for decoration. The bar stocks a reasonable selection of draughts, no mass market brews available on tap (marvelous!), the selection being Creemore, Amsterdam Blonde and Nut Brown, Guinness and Kilkenny in October 1999.
Now the main draw to the Reservoir Lounge is not the beer or the décor, but the swing. Every night the Lounge has live music, primarily swing-jazz. They describe their music as "Swing, Jump Blues & Boogie Woogie". Regardless, the live music at the Reservoir is definitely fun. The stage is very small, but the musicians cram onto it, and play with tremendous energy. There is no separation of the stage from the rest of the bar, making the mood of the live music very intimate. The Reservoir has regular acts throughout the week, including Toronto swing favourites Tyler Yarema & His Rhythm (Tuesdays) and Tory Cassis (Saturdays), and random guest acts.
The Reservoir Lounge has always walked the thin line of being a cool place to have a drink and listen to some swing and a repellent swing amusement park. The Reservoir at its best: walking in for a couple of drinks, seeing some incredible music, and perhaps having Jeff Healey (common) or Tom Jones (rare) head up on stage for some jams. The Reservoir at its worst: patrons who have watched "Swingers" too many times, dressing up in pinstripes and fedoras, drinking from brandy snifters and smoking cigars, attempting to swing with the semi-pros that grace the stone dance floor nightly.
However, the Reservoir is usually great fun, a place to see some excellent live music, unlike most in the city, and have some fine drinks. By the way, the food is quite good too. Be sure to try the four-cornered pizza with all sorts of tasty toppings. Reservations are accepted for dinner only, so go early if you want to sit but not eat. Most weekend nights are almost fully booked.
Recommended.
About
Bar Towel
News
Breweries
Brewpubs
Good Pubs
Buying
Good Beer
Toronto
Pub Walks
Beer Reports
Forum