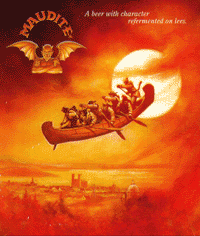 The legend of the Chasse-Galerie depicted in the artwork for La Maudite.

In 1990, the founders of Unibroue, André Dion and Serge Racine obtained 75% interest in La Brasserie Massawippi Inc., a struggling brewery in Lennoxville, Quebec. At the end of 1991 the remaining shares of Massawippi were acquired and transferred to Unibroue Inc. Massawippi changed its name to Brasserie Broubec Inc. and amalgamated with Unibroue in 1993 to form the existing corporation.

In spring 1992, Blanche de Chambly was unveiled after consultation with a Belgian brewer. La Maudite debuted in November of the same year, and Unibroue began to invade the palates of Quebecers. It would be another 18 months of research until their next beer, La Fin du Monde was ready for the market in February 1994. Another year passed, and Raftman debuted in March of 1995, followed by La Gaillarde in August. By now Unibroue was gaining respect and was exporting: even slow learning LCBO permanently stocked Maudite and Blanche de Chambly in the fall of 1995. Unibroue's first seasonal, Quelque Chose, was unveiled in January 1996, and L'Eau Bénite debuted in June 1996.

Unibroue has continued to expand its lineup of beers, including Trois Pistoles joining their main line, and exclusive beers 1837 and Marie-Clarisse being added in 1997. Unibroue is planning to continue an aggressive growth strategy, including increasing exports and further innovating with new products.

In spring 1997, Unibroue decided to join the microbreweries willing to tackle the stock market. Unibroue's IPO consisted of roughly 2.1 million shares trading on the Montreal Exchange. 1996 was a very good year for Unibroue, ending a five-year revenue growth increase of 1865%, ranking them the 26th fastest growing Canadian company according to the June 1997 issue of Profit magazine. Unibroue experienced better earnings per share than the other publicly-traded Canadian micros.

In June 1998, with much fanfare, Unibroue unveiled "U", a light-flavoured pilsner targeted at the mainstream market. Packaged in a clear bottle, "U" was launched through a series of province-wide promotional events. The beer, the brewery's lightest at 4.9%, is promoted as a Carlsberg and Heineken style beer. "U" has proved to be very popular in Quebec, substantially increasing revenues for the brewery.

Although the development of "U" worried some as a signal of the movement of Unibroue towards mainstream brewing, the release of Don de Dieu in December of 1998 clarified their commitment to superior quality. Unibroue's winter-only seasonal, Don de Dieu is a tripel-style white ale, with a very winter-warming 9% alcohol. Continuing this commitment, in 2000 Unibroue released La Bolduc and L'Ephemere.



Filter News