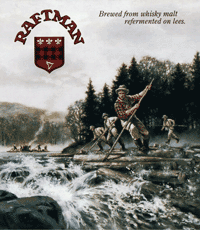 The lumberjacks of the forest hard at work in the artwork for Raftman.

After years of admiration of Unibroue, I finally travelled to Montréal and drove to the Unibroue brewery on December 9, 1997. The brewery is in Chambly, a distant suburb of Montréal, about a half an hour drive off the island. Myself and a friend drove out to the town, which is very French and very bland (the language and the description being unrelated). The town does have a historical fort which attracts tourists in the summertime, but in the winter there is not much to do in Chambly.

After receiving directions from a helpful local, we arrived at the brewery, which is at the end of a street off the main roads, invoking reminiscence of driving down Atlantic Ave. to the old Upper Canada brewery. The building itself is a very modern factory. Unfortunately and unbeknownst to us upon arrival, is that the brewery is not designed to accept tourists or visitors. We entered the front door, and encountered a standard office space with cubicle walls and flourescent lights. Much to our disappointment, there was no hop aroma in the air or grains on the floor. We spoke to a receptionist, asking if there was a brewery store. She told us there was not one. I asked if they provided brewery tours. Only for groups of 40 to 50, she responded. I became distressed. I have loved this brewery so much and I finally visit and there is nothing to see. However, she did ask us if there is anything we came to purchase. I suppose since their beer and collectibles are all available in Quebec depanneurs if you look hard enough, a brewery store was unnecessary.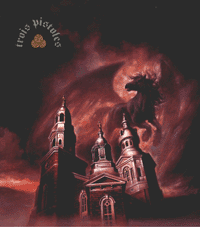 The Black Horse coming to the rescue in the artwork for Trois Pistoles.

We did visit the brewery, however, with the hope of buying a set of their custom logo glassware, unavailable in Ontario by the provincial distributor nor shipped by the brewery. I inquired once, and the representative I spoke to invited me to visit and pick up some if I ever was in Chambly. I was, and I wished a set. The receptionist made a call, and another employee came to the office area and led us off to their display room. Unfortunately I have no pictures of this room, but this room contained a wall of their glassware, display cases of their gift sets, and windows looking into the brewery and bottling line and tasting room. This was a nice room. I wanted everything I saw, especially entry into the tasting room, where there were pitchers filled with Unibroue beers being enjoyed by some very lucky employees. A number of trips were made into back rooms and we had our complete glassware sets, including a few promotional cardboard posters as well. We paid up and left, satisfied with our trip to the brewery. Besides, the brewery and bottling line were immaculately clean, and we were probably too filthy for a tour, and I never saw a tasting bar anyway.

On a side note, Unibroue is doing what it can to enhance the town of Chambly: they have built a "beer interpretation centre" adjacent to Fort Chambly, about five minutes from the brewery, named Fourquet Fourchette. It was under construction when I visited, but the pub looked great, a two-level structure that has been quite successful since its opening in 1998. Definitely a must visit during any trip to the Montreal area in search of good beer.



Filter News