140 Eglinton Ave. E

Directions: Take the Yonge-University-Spadina subway to Eglinton station. Exit and walk east along Eglinton Ave. until you reach Mount Pleasant Ave. The Granite Brewery is on the south-east corner.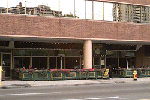 The Granite and its front patio, on Mount Pleasant Ave.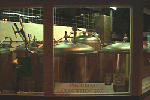 Tasty ales being fermented.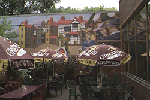 The excellent back patio of the Granite.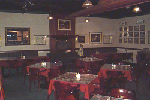 The spacious Granite dining area.

The sister brewpub to the Granite Brewery brewpub in Halifax, Nova Scotia. The Granite is a fine producer of good-quality uptown ales. Located at the corner of Eglinton and Mount Pleasant on the ground floor of an office building, the Granite is a large pub with two great patios, one overlooking the activity of Mount Pleasant and the other in the quad in the middle of the building.

The decor is British: shelves of books line the walls with the odd fireplace for coziness. The brewtanks are also visible from the back room. All of the Granite's beers are ales: Best Bitter, Best Bitter Special (dry-hopped), Keefe's Irish Stout, Ringwood Ale and Ringberry. Their flagship brew, Peculiar, is also brewed and bottled by the Hart Brewery of Ottawa for sale in local LCBO stores. Their beers are not revolutionary nor extraordinary, but they taste great coupled with fish & chips on the patio on a warm summer night.

The Granite is also known for their wonderful Brewers' Banquets, which they host periodically at the restaurant or at their second location, Beer Street . Each banquet features an all-inclusive dinner, coupled and usually made with various beers. The banquets are co-hosted by one of more microbreweries, and their beers are also a part of the dinner. Recent banquets have featured the Lakes of Muskoka and Kawartha Lakes breweries. The Brewers' Banquets are always a great time - you can find out about upcoming banquets in the Bar Towel Events section.

Visit the Granite Brewery's website: www.granitebrewery.ca

The Granite Brewery has opened up a second location on The Danforth in downtown Toronto! Read the Bar Towel review of Beer Street.



Filter News