133 John St., 595-8201

Directions: Take the Yonge-University-Spadina subway to Osgoode station. Exit and walk west on the south side of Queen St. Turn right at John St. Al Frisco's is on the east side of John St.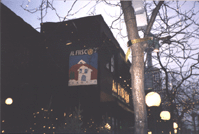 Al Frisco's has a unique history in the Toronto brewpub scene, a past that is mostly forgotten by the pub's current patrons. Al Frisco's used to be the Amsterdam brewpub, one of Toronto's first brewpubs back in the 80s. The pub was sold and converted into its current form a number of years ago, and thankfully the brewing equipment was kept, and Al Frisco's still does some brewing of its own. Of course, the Amsterdam name lives today, as the brewery at 600 King St. W produces and bottles Amsterdam beers for the city.
Al Frisco's is in the heart of what is known as the "club district", a region of the city where large warehouse spaces have been converted into dance clubs and restaurants. The club district is a diverse area for entertainment, with clubs for every music taste, restaurants for every culture, coupled with many theatres and shops.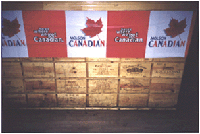 Al Frisco's benefits from its location, and is a very popular night spot. The restaurant itself is two floors: the first floor being a semi-formal dining area, and the second floor being more of a bar, with coin-op pool tables and large screen televisions. I felt that Al Frisco's tries to bring together too many styles, resulting in cluttered, gaudy and uncomfortable mismatches. For example, the upstairs area has a bar constructed of authentic French wine boxes. However, the bar is encircled in Molson Canadian plastic wrap, and topped with a cheap-looking, uneven bar top. It seems that Al Frisco's wants to be many things, to appeal to as large of an audience as possible.
On to the beer. It is admirable that Al Frisco's has kept and continues to utilize their brewing equipment. In this area of the city, good beer is an unfortunate rarity, and Al Frisco's would be just as popular without any house beers. However, they do brew, and respect and thanks is given. Their house beer menu has four items: Nut Brown Ale, Continental Lager. Red Ale, and 'Seasonal Brew'. On the particular night I visited (a Saturday in February '00), the only house beer available was Continental Lager. It is unknown why the other beers were not available, and that was disappointing that I could not have tried them. Hopefully they will be back soon.
Suprisingly, the Continental Lager, sold to patrons as "close to Creemore", was quite nice. It did possess slight hints of Creemore's nuttiness, as well as a smooth, grainy bitterness. Visually, it had a full and rich dark copper colour. I was pleasantly suprised by this beer, as it was unexpected for this pub, and this district.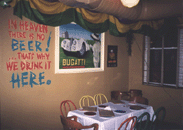 Al Frisco's is the only brewpub in the Toronto entertainment district. It is far from the level that C'est What, Denison's or the Granite Brewery is on, but it does have a history in the Toronto brewpub scene, and continues to respect that history. Another visit will be necessary, to sample their other house brews. The bar itself is conventional and expected for this part of Toronto, but hopefully their beers can continue to not be.
Moderately Recommended.
UPDATE (Fall 2001): Al Frisco's is no longer brewing beer. This is definitely sad to see, considering the rich history this establishment has on the Toronto brewpub scene.
About
Bar Towel
News
Breweries
Brewpubs
Good Pubs
Buying
Good Beer
Toronto
Pub Walks
Beer Reports
Forum