143 Danforth Ave., 463-3086

Directions: Take the Bloor-Danforth subway to Broadview station. Allen's is on the south side of Danforth Ave., just east of Broadview Ave.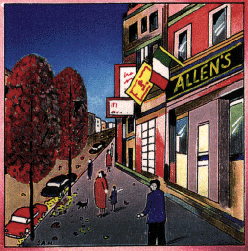 One of Toronto's most well known and, in my opinion, most over-rated pubs. Allen's is one of the three pubs to be recommended in Toronto in Michael Jackson's Pocket Guide to Beer (the others being C'est What? and the Bow & Arrow). Host to many beer-related events, Allen's is a popular stop on a Danforth pub crawl. Their beer selection, however, does not live up to its reputation. Their tap selection includes few Ontario micros, the most notable taps being U.K. imports. They do have an extensive bottled selection, however it is overpriced.
Allen's is often very busy, and has live music frequently, usually in the folk/Celtic/rock vein. Allen's has a patio out back.
Moderately recommended.
About
Bar Towel
News
Breweries
Brewpubs
Good Pubs
Buying
Good Beer
Toronto
Pub Walks
Beer Reports
Forum