| | |
| --- | --- |
| Neighbourhood: | Deer Park/Moore Park/Summerhill |
| TTC: | St. Clair station, along the Yonge subway |
| Parking: | Parking lot at Yonge and Pleasant Blvd. Restricted parking close to the subway. Unrestricted parking in residential area north of St. Clair and Inglewood. |
| Pub: | Wylies, 1234 A Yonge St. or Guv'nor, 1240 Yonge St. |
| Beers: | A variety of standard taps. |
| Meeting people: | The Rosehill Reservoir always seems to host friendly types It is also impolite to fail to greet other travelers on the Heath St. bridge. |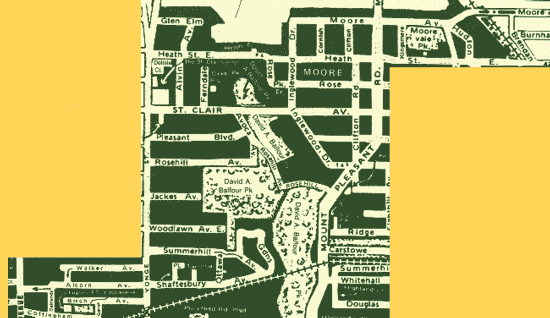 This walk is along paved, well lit pathways, so if the weather turns nasty this month it can still be traversed. There are interesting diversions into the bushes if you are really adventurous, The walk to the pub is longer than usual. This is a one-hour walk that ends at a pub. It would have been shorter had I been able to find a decent pub at Yonge and St. Clair. There are plenty of drinking establishments, but this site is rather discriminating, We welcome suggestions about good places is this vicinity. The walk starts at St. Clair and ends at Summerhill. An interesting return route has been included for the dedicated walkers.
Start the walk on St. Clair, north side, east of Yonge, at the light for Avoca. If you took the subway, exit south to Pleasant Blvd. Go east to Avoca and north to St. Clair. If you used the Parking lot, exit north to Pleasant Blvd. Go east to Avoca and north to St. Clair.
At Avoca and St. Clair, a path descends into the ravine. This is one of the optional diversions. You could wander the ravine over to Heath St., however, I found these ravines inhospitable, so unless you are a seasoned explorer, stick to the road, walk east over the bridge, admire the ravine from afar, and turn left on Inglewood and left again on Rose Park. You will dead end at Heath and if you look west you will see stairs to the ravine that connect you with the aforementioned ravine route. Since we are remaining sensible these days, ignore the stairs and proceed east along Heath. You will shortly pass a sidewalk extension that blocks cars from using the road. Does this mean that this is a particularly pedestrian friendly neighbourhood, or is this just a rather odd way to spend our tax dollars?
Cross Mount Pleasant. This is not a pedestrian friendly intersection; in fact it is down right hazardous. You might want to use the light and double back to Heath. Continue along Heath to Welland and through the vehicle-blocking barrier. This is not exactly Capilano but it is quite an interesting bridge by Toronto standards. At the end of the bridge, before the barrier, go up the wooden stars and continue north up that road to Moore Ave.
Turn left on Moore and proceed west past the south entrance to Mount Pleasant Cemetery and the Belt Line. [ For stimulating information about the cemetery see previously published McSorley's walk. Tune into this site again in eager anticipation to read the up coming Bow and Arrow walk which will be featured in the spring when the Belt Line is great for walking.]
Continue west on Moore past Hudson, another car challenged street. This residential neighbourhood is quite unique. Not only is it blocked off from Toronto by natural ravines, someone keeps building these artificial traffic barriers. Take a rest in Moorevale Park. You are half way to the pub. Think how great the beer will taste when you eventually get there. Keep going west on Moore across Mount Pleasant. You have a light, but I think because of all the traffic barriers in this area, the drivers are a might disturbed. They oft times seem determined to ruin the pedestrians' day. Moore will cease at Inglewood. Proceed south, back to St. Clair end back over the bridge to Avoca, where you started out.
You are now going to head south to Summerhill and the welcome beer. Cross St. Clair at Avoca and walk south on the east side of the street. Follow the sidewalk to the Rosehill reservoir. Do not go down the first driveway, unless you are determined to venture off the beaten path, but go left at the reservoir sign, the second driveway. Follow the paved path that circumvents the east side of the reservoir, following the fence. The path loops west. When you reach an odd industrial building, deviate from the main path and turn left away from the reservoir heading south. Take the first fork in the road veering left and proceed east along the road that parallels your previous reservoir path. This road, Summerhill Gardens, turns south and allows you to examine a weird assortment of housing styles from the mammoth to the miniscule.
Cross Summerhill Avenue and continue along Shaftesbury. Be adventurous and at Tacoma turn right. At the dead end, venture through the gate in the fence. Make a left turn into the laneway, follow it back out to Shaftesbury, then keep going west to Summerhill subway and Yonge. Laneways riddle this area with houses landlocked within these warrens. Don't get lost in them as you have finally made it to the pub, now visible on the west side of Yonge at Shaftesbury.
At this point you are faced with a conundrum, there are two pubs. Both have much the same menus for food and drink. Standard pub fare and standard taps. Wylies features more micro brews, but nothing unusual, Creemore and Upper Canada, etc. Guv'nor had Strongbow on tap. Food prices are not dirt cheap, but reasonable, $7.99 a sandwich range. The food and service in Wylies, however, was excellent. The obvious difference is in décor / ambiance. Wylies is small, eclectically furnished in aging primary colours and has a rather tatty European café feel. There is a basement area for overflow clientele. Guv'nor is cavernous and decked out in traditional English pub style, dark oak and oversized chairs. Evening client groups were totally different. Wylies appeared to attract a predominantly local crowd from the over 40 set. Camaraderie was evident at the bar. Guv'nor had a far more youthful crowd sporting a preponderance of baseball caps. A "funk" DJ is promised for Saturday nights. So depending on your age and inclination, make your evening choice. If you are a lunch time imbiber chose your décor.
To return to St. Clair, the fastest route is to hop on the subway at Summerhill, but if you are still up to a stroll, head south to Birch. Proceed west to Lionel Conacher Park and loop south around the park on Cottingham. Here are more fences to hinder those pesky cars. Make a right [north] up Oakland and right again at the next car barrier. Take the first left [north]. None of these streets seem to be labeled. Once you keep the cars out I suppose street signs seem superfluous.
When you hit Walker, go right and follow it back out to Yonge. Stop for another beer? Cross Yonge at the light at Woodlawn and follow the footpath at the end. Proceed left, circumnavigating the reservoir again by following the path in a northerly direction.
At the north end of the reservoir, Rosehill Ave., head west back towards Yonge and the parking garage. On the east side of the garage is a pathway that leads you back to the St. Clair subway station or the Pleasant Blvd. garage entrance.
You can now head home provided you are not totally exhausted, got lost on one of the ravine diversions I advised you avoid, or got totally confused mingling with the inappropriate age group in the pub.
Happy wandering.