During the ongoing political tensions between Quebec and the rest of Canada, I am often reminded of one reason why Québec is important to me: good beer. Québec has over the past few years developed a thriving microbrewery industry, with many breweries opening up and experimenting with Canadian interpretations of worldwide beer styles. Very few Québec beers have made it to Ontario, but some which have crossed the border are simply great.

The Unibroue brewery of Chambly, just outside of Montreal, has grown tremendously during the 1990s, and this profile will focus on the brewery and their wonderful beverages. Three of Unibroue's slate of beers are regularly stocked in the LCBO: Maudite (6 x 341mL, $11.95), La Fin du Monde (750mL, $5.50) and Blanche de Chambly (6 x 341mL, $10.95). Another brew, Raftman, plus Maudite and Blanche de Chambly, are available in 6-packs at select Toronto Beer Stores. Unibroue also produces a series of other brews not regularly available in Toronto, although some are released on occasion through Vintages.

Unibroue owes brewing inspiration to Belgium, where the world's most distinctive beers are made. Belgium is home to such individual styles as lambic (kriek, faro, gueze, framboise and others), witbier, Trappist, bruin, saison, plus distinctive national specialities of red beer, strong ale, golden ale and pilsner. Belgium has the most colourful beers in the world, and although nothing can really compare to authentic Belgian brews, Unibroue gives us impressive Canadian interpretations of some Belgian styles.

Unibroue's beers appear strange to the untrained eye; there is a small amount of sediment at the bottom of each bottle. This is normal, it is the yeast, an essential component of brewing beer. When the yeast ferments a beer during the brewing process, most brewers filter the yeast out of the beer for bottling. Unibroue, however, does not filter their beers and leaves the yeast in the beer. This is a process called "méthode Champenoise" in Belgium and "beer on lees" by Unibroue. The yeast remaining the bottle gives the beer a secondary fermentation, often increasing the alcohol strength but always heightening the complexity of the brew. The yeast is harmless. It is meant to be drunk and not discarded, and provides a great source of vitamin B complex.

The first Unibroue beer to be released in Ontario (in late 1995) and the beer that made me a fan of the brewery was Maudite. The name translates into "damned," and possesses a story based in Québec folklore. The label (all of Unibroue's labels are great - see some Unibroue artwork throughout their profile on The Bar Towel) is primarily orange, yellow and black, with a canoe flying through the air in front of a bright sun, with a smirking devil beneath them in the foreground. The label depicts a scene from a French-Canadian legend in which a group of impatient woodsmen, late returning home during the holidays, enter into an agreement with the devil. The devil agrees to fly their canoe home if they do not speak. If they are unable to fulfill their obligation, the devil gets their souls. They remain silent until, at the sight of Montréal's Notre Dame cathedral, they all cheer. They realise their fate, and all scream "Maudite!"
This is a beer with personality. At 8% alcohol, Maudite is an interpretive Belgian Strong Ale. Being bottle-conditioned, it is more aromatic and spicy than most standard ales. It is dark amber-ebony coloured, with hints of fruit and caramel in the flavour, and a wonderfully lingering finish. I immediately loved it the first time I tried it, and it remains one of my favourite beers. Unibroue itself proclaims that Maudite is "one great beer," and this is a sentiment which I wholly agree. Maudite is an extraordinary beer and one I am proud to call Canadian. Maudite is regularly stocked in six-packs in select LCBOs and Beer Stores.

Unibroue's first beer, but the second released in Ontario after Maudite was Blanche de Chambly. The Blanche is based upon the Belgian style "witbier," a Flemish term for "White beer." A witbier is a wheat beer by definition, however the Belgian style stands alone from other wheat beers. In addition to the wheat malts used to create a witbier, orange peel, coriander and other spices are used to season the beer. This creates a orange taste with dry, spicy and fruity qualities. The orange hints in a witbier contrasts the banana flavours often common to German Weizens. The Blanche de Chambly follows the witbier recipe. The Blanche lacks the strong orange qualities of authentic witbiers, but has many accents of fruit, spice and clove. The Blanche is 5% alcohol, and is very refreshing and quenching. Its yellow-white colour is softened by unfiltering, leaving the beer cloudy in appearance. The Beverage Tasting Institute of Chicago, at the World Beer Championships a couple of years ago, awarded the Blanche de Chambly the title "Best White Beer in the World." The Blanche was deemed of higher quality than any authentic witbiers of Belgium or American interpretations, proof that Canadians can still compete with world brewers (was there any doubt?). This is definitely another beer to anticipate every taste greatly. Blanche de Chambly is regularly stocked in six-packs in select LCBOs and Beer Stores.

The third Unibroue beer to be released in Ontario was La Fin du Monde. Translating into "The End of the World," this is another brew that could happily be one's last. It is reminiscent of a Belgian Tripel, a Dutch term for an extra strong (usually 7-10% alcohol), pale golden ale. Most Tripels today are of the Trappist/Abbey style of Monastic breweries. La Fin du Monde is very pale, with a yellow-white colour similar to the Blanche de Chambly. It is an ale, yet is very light golden coloured, deceptively similar to a lager. La Fin du Monde is triple fermented, leaving a hearty sediment in the bottle and a high alcohol content (9%.) This beer is very tasty, possessing a full body but without any harshness common to poorly brewed stronger beers. There is some sweetness present, thanks to the extra fermented sugars needed, with hints of fruit and light spices. Again another beer by Unibroue worth pursuing. La Fin du Monde is regularly stocked in 750mL champagne-corked bottles in select LCBOs.

Raftman (5.5%), a copper coloured ale brewed from smoked whiskey malts, was the fourth beer to be released in Ontario, and so far the last one to be permanently distributed. Raftman is brewed in honour of the masters of the forest who were lumberjacks, log drivers and raftsmen of the Canadian woods. These outdoorsmen settled their differences over a beer or some whisky, and fittingly Raftman is a beer brewed with whisky malt. It is a malty, smoky and peaty brew, different than Unibroue's other Belgian-accented ales. Raftman is available in 6-packs in select Beer Stores.
La Gaillarde once again invokes the memory of legend: it is brewed to commemorate the lively and hardy (the rough translation of "gaillarde") women of the 16th century who brewed the beer while their husbands were hunting. This brew strives to duplicate their recipes. These women must have made great beer, because La Gaillarde is excellent. It is an abbey-style ale, spicy and aromatic, yet not as powerful as Unibroue's other beers (only 5%). This fine brew in unfortunately unavailable in Ontario.

L'Eau Bénite was a beer I loved on first sip, a fruity and mischevious brew. Translating into "holy water", the devil on the label of Eau Bénite smirks at the drinker as the brew is enjoyed. This beer was released through Vintages in the fall of 1999.
Trois Pistoles once again recalls Quebecoise legend, that of the black horse protecting the church in the Québec town of Trois Pistoles. This beer is a dark caramel-red coloured beer, with an interesting aroma of ripe fruit preceeding the first sip. Upon tasting, TP's alcohol bursts onto the palate, reminiscent of dark Belgian Trappist ales such as Chimay. TP is thick and dense, with a lingering portish aftertaste. This brew is unavailable for purchase in Ontario, but is stocked in certain pubs and restaurants in Toronto.
1837 is a beer Unibroue brews exclusively for distribution in the Société des Alcools du Québec (SAQ) - Quebec's version of the LCBO. It is another Belgian-style strong ale, commemorating the French Canadian rebellions in St-Eustache of 1837.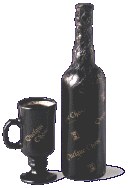 Definitely Unibroue's most unique beer, and one of the finest in Canada. Quelque Chose is one of Unibroue's winter seasonals, and their only fruit beer. Quelque Chose is a beer meant to be drunk hot. Instructions for heating accompany each foil-wrapped 750 mL bottle. The label suggests a maximum drinking temperature of 70 degrees Celsius, minimum 30 degrees. The beer's name translates as "Something" and this is an appropriate identifier. Quelque Chose is a wonderful beer, perfect for Canadian winters. Its deep red colour and raisinish aroma are tempting; its sour flavour and warming aftertaste are irresistable. Quelque Chose could be thought of a "Neo-Citran for adults," as I could not imagine feeling bad after savouring a bottle of this. Seek this out and enjoy. This brew was released through Vintages in the fall of 1999.
Unibroue unveiled two more new beers in 1998: "U" and Don de Dieu. "U", debuting in June, is Unibroue's entry into the mainstream market. "U" is a pale-coloured (and tasting) pilsner, packaged in a clear bottle. Unibroue is planning to develop two parallel product lines, their unique Belgian-style beers for connoisseurs, and standard mainstream beers for the mass market. Don de Dieu joins Quelque Chose as a winter seasonal, and it is ideal for cold Canadian nights. Don de Dieu is a tripel-style white ale, with a warming 9% alcohol. This beer, once again, evokes Quebecoise history, named after one of the ships commanded by Samuel de Champlain used to explore America. Neither beers are available in Ontario.
The new products from Unibroue continued. In the summer of 1999, they unveiled U2, a dark-coloured pilsner, companion to U in their line of mainstream brews. However, the new premium beers continued to debut as well. In 2000, Unibroue unveiled L'Ephemere, a seasonal beer, and La Bolduc, billed as an "old-fashioned brew", which have been getting positive reviews. As well, they are about to venture into new segments with a yet-unnamed non-alcoholic beer, and bottled spring water under the brand Nunavik.
I consider Unibroue to be one of Canada's most eclectic and exciting breweries. Unibroue's beers take inspiration from Belgian styles, but they are undoubtedly Canadian interpretations, with a national style all their own. I am proud to have Québec as part of my country, and I do not want the province or the beers to call themselves anything but Canadian.
Unfortunately, with the exception of Maudite, Blance de Chambly, La Fin du Monde and Raftman, no other Unibroue beers are available in Toronto. Vintages released Quelque Chose and L'Eau Benite in the fall of 1999, and some bottles are still available in certain stores. However, their other beers are often seen around the city, C'est What? currently stocks 750mL bottles of Trois Pistoles and Quelque Chose, and Cafe Brussel stocks 750mL bottles of these two, plus a few others.
UPDATE (January, 2001): In the fall of 2000, the Beer Store unveiled perhaps its most unique product ever stocked, the Unibroue Collection. For fans of Unibroue, or casual drinkers looking to experiment, this 12-pack was heaven-sent. This attractive 12-pack contained single bottles of Blanche de Chambly, Raftman, Maudite, Fin du Monde, Eau Benite and Trois Pistoles, and six brands new to Ontario: Sans Nom, St. Hubert, Gaillarde, Don de Dieu, 1837 and Kamouraska, all for only $21.95. Originally slated to be a limited edition run of 2,500 cases only, the Unibroue Collection was so popular that it will now be stocked permanently at Beer Stores. Congratulations and thanks to Unibroue and the Beer Store for offering such a unique product to Ontario beer lovers.



Filter News