Danforth Ave., from Broadview Ave. to Victoria Park Ave.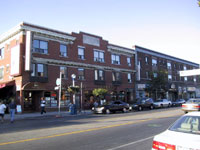 A view along the Danforth.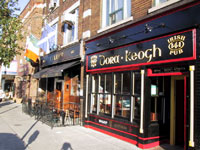 Allen's and Dora Keogh, good beer side-by-side.

The Danforth area from Broadview eastward has historically been known in Toronto as Greektown. Beginning in the 1950s, the area was populated by many Greek immigrants, many of whom set up businesses on the street that continue today. Although the actual Greek population is less than in the past, the area retains a thriving Greek atmosphere, with many lavish and delicious restaurants, bars and cafes. However, the Danforth remains a popular destination for those of Greek heritage who no longer live in the neighbourhood. The Danforth is a neighbourhood always full of life, with many street festivals such as the Taste of the Danforth and Sounds of the Danforth throughout the summer.

The Danforth is an excellent strip for an evening out, with a high concentration of restaurants and bars from Broadview to Pape. Beyond Pape, the concentration lessens, but there are a few gems further eastward, such as Sarah's and Mackie's.

Although Greece is not known for its microbrewed beers, the Danforth possesses quite a few establishments where good beer can be found. Pubs such as Allen's and Dora Keogh at Broadview have good imported draught selections, Cafe Brussel has an excellent selection of Belgian, French and Quebecoise beer, and Beer Street, the sister pub of the Granite Brewery uptown, features all their house ales downtown as well.

Where can I find a good brew?
| | | |
| --- | --- | --- |
| Pub Name | Address | Phone (416) |
| Allen's | 143 Danforth Ave. | 463-3086 |
| Auld Spot | 347 Danforth Ave. | 406-4688 |
| Beer Street | 729 Danforth Ave. | 405-8100 |
| Brass Taps Pizza Pub | 493 Danforth Ave. | 466-3403 |
| Black Swan | 154 Danforth Ave. | 469-0537 |
| Byzas | 535 Danforth Ave. | 778-1100 |
| Café Brussel | 78 Broadview Ave. | 465-7363 |
| Christina's | 494 Danforth Ave. | 463-4418 |
| Dora Keogh | 141 Danforth Ave. | 778-1804 |
| Lolita's Lust | 513 Danforth Ave. | 465-1751 |
| Mackie's Taigh Osda | 2112 Danforth Ave. | 421-3375 |
| Mavericks | 804 Danforth Ave. | 462-2605 |
| Megas | 402 Danforth Ave. | 466-7771 |
| Mezes | 456 Danforth Ave. | 778-5150 |
| Myth | 417 Danforth Ave. | 461-8383 |
| Octavia | 414 Danforth Ave. | 461-3562 |
| The Old Nick | 123 Danforth Ave. | 461-5546 |
| Sarah's Café | 1426 Danforth Ave. | 406-3121 |
| The Only Café | 972 Danforth Ave. | 463-7843 |